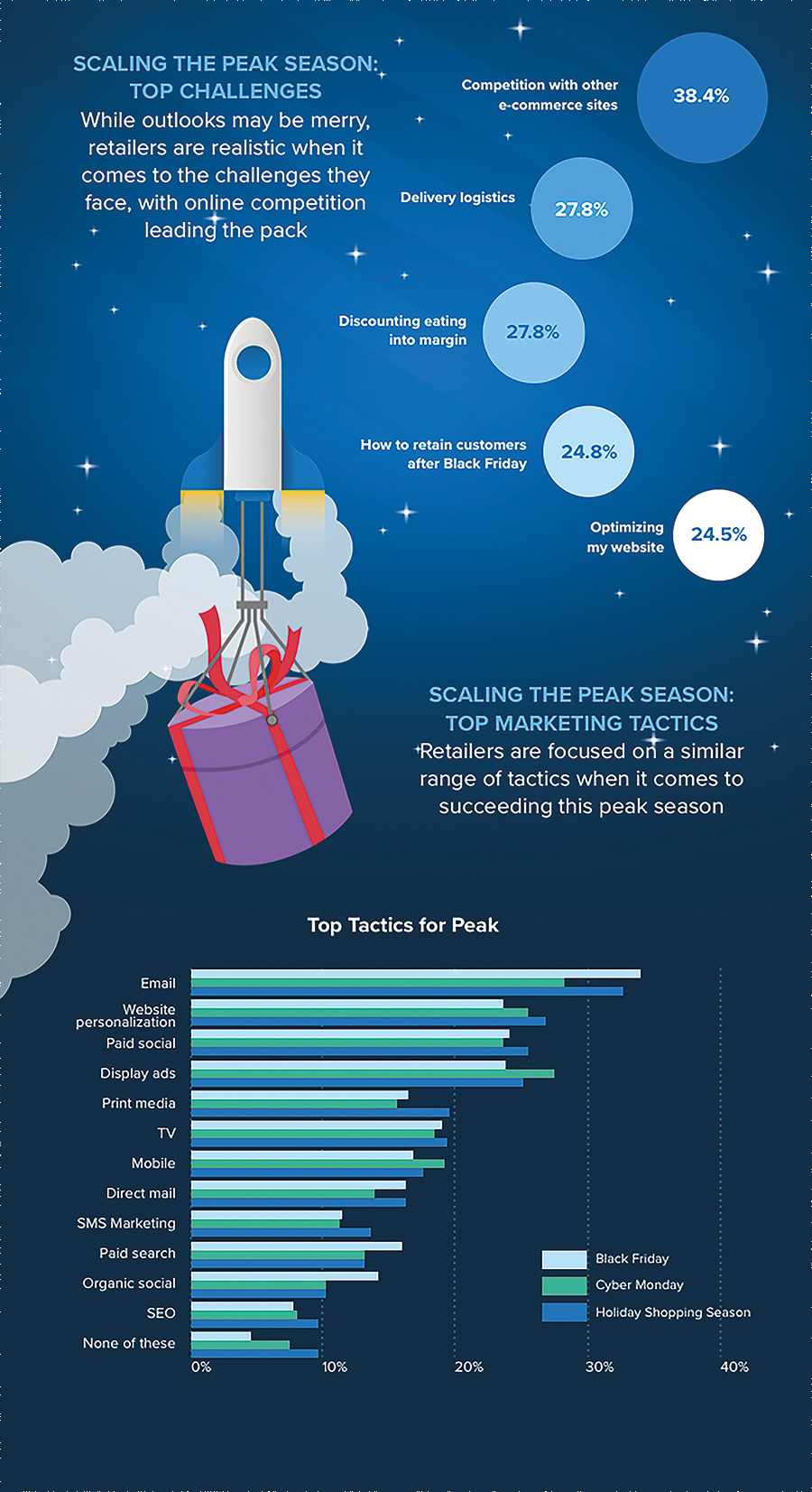 Retailers are looking ahead positively to peak 2019 with many expecting an average 25% improvement on 2018 Black Friday revenue, according to customer journey optimization company Yieldify. It's report 'The Shape of Peak to Come' predicts that retailers will see growth of 28.6% for the peak shopping season as a whole.

The company surveyed more than 400 retailers in the UK and the US and found that less than 10% of them are expecting flat or negative results for Q4 2019.

US retailers were among the most optimistic, with almost half (49%) predicting a revenue boost of between 25-75% on last year, versus just 33% who predict the same in the UK. Pureplay ecommerce retailers were less positive than multichannel retailers, with one fifth (20.3%) predicting no change.

The report also found evolving attitudes towards the key events of peak season, namely Black Friday. While most retailers still plan on participating in Black Friday, a notable 22% of the more cautious pureplay ecommerce businesses said that they would be opting out. Those that do plan on participating will be offering fewer and smaller discounts than their multichannel counterparts.

Rather than a Black Friday bonanza, retailers appear to be spreading discounts across the quarter. Price-slashing activity will reach a peak during the weeks leading up to the Christmas period, when 85% plan to offer discounts. More than half (57.6%) of retailers are planning to offer discounts across their entire range during the Christmas period - higher than on Black Friday (50.6%) or Cyber Monday (44.4%). US retailers are more likely to favour this approach to discounting, even on Black Friday, with 61.9% discounting across all ranges versus just 39.3% of their British counterparts.

"The report attests to the trends we've seen in recent years with our clients - what used to be a race to the bottom for discounts has evolved into a more diverse set of approaches to the traditional peak season. With competition stronger than ever, it pays to be different as much as it pays to discount," says Jay Radia, CEO and founder, Yieldify.

The report found that regardless of the strategy, early preparation is near-universal this year. Over half (61%) of retail marketers have already started preparations for the holidays, with campaigns starting up to 3.6 months in advance (on 6 September). Overall, multichannel retailers were the most likely to start both planning and execution early: 52% of multichannel retailers had already started planning in July versus just 23.7% of pure-play ecommerce retailers.
LOYALTY
Meanwhile, almost 25 years after Tesco launched its revolutionary Club Card, a new report from Hawk Incentives reveals that loyalty schemes are as popular as ever. Supermarkets are still the main beneficiaries of the card-carrying public with 8 out of 10 consumers subscribing to a grocery reward programme, according to 'The Loyalty Evolution Report'. A massive 82% of people in the UK currently subscribe to at least one loyalty programme.

Over two thirds of people (64%) are signed up to between one and five loyalty schemes, followed by six to ten (14%), and eleven to twenty (2%).

The UK's burgeoning coffee shop culture is also driving consumer loyalty enjoying 42% of the share of the market, with restaurants in third place with 33%. Least popular currently are fuel schemes, with only 6% of the population subscribing. Technology schemes account for 8% and sports retail loyalty and rewards schemes 19%.

The study also revealed that 62% of people consider themselves to be brand loyal. Contrary to previous studies which have painted younger shoppers as more fickle, the Hawk report reveals that Gen Z, Xennials and millennials say they stay faithful to the brands they like or love. In fact, 77% of 25-34 year olds claim to be brand loyal and 70% of 18-24 year olds and 34-44 year olds.

Women are more likely to sign up to loyalty and reward schemes (85%) compared to 76% of men. A lack of interest was cited by a fifth of respondents as the main reason for not signing up, with 17% citing a perceived lack of value. This is also a greater reason for men - 21% vs. 11% for women, as well as the older age group (24%).

Older consumers 55+ are failing to sign up over concerns about the use of their data. Hawk Incentives' report finds that older respondents give stronger scores around statements relating to this. For example, 20% opted for "I am concerned about the use of my personal data (e.g. data breaches)", "I don't want to share my personal details with brands, and "I think it is just a reason for brands to capture my data".

Despite the rise of digital technologies, consumers would still prefer a physical loyalty card rather than a digital format. This is the case for both subscribers and non-subscribers. Over half of subscribers and 30% of non-subscribers said something in their purse or wallet was preferable to a smart phone app or another digital platform. Perhaps not surprisingly, non-subscribers don't really have a preference. But 46% said they would still prefer a physical card if they could choose.

"The fact that only 15% of consumers don't currently subscribe to rewards programmes shows loyalty schemes are still very much alive and kicking. However, it appears consumers' perception of them may have shifted as people become more concerned about data in the Facebook era," says Chris Ford, director of field sales, Hawk Incentives.

He continues: "What we do know is that brands that offer loyalty schemes which are relevant, offer choice, and are easy to access, create the best opportunity to engage an already receptive audience of active customers. Mining your data intelligently and sensitively to create targeted rewards and incentives will only make consumers more brand loyal and better brand advocates. Reassurance that their data is in safe hands is, of course, also key in the age of transparency.

"The preference for having a plastic vs digital card may seem surprising. It seems we've become habitual in our point of purchase use of physical cards. As we open our purses or wallets, reaching for cash or credit or debit cards, we see a range of cards and are therefore reminded to collect our points or redeem the value we've accrued. Though we're all app happy, we're less used to accessing them when transacting with brands, especially as most smartphone users have manifold apps on their phones.

At Hawk Incentives, we also believe brands' understandable reticence to 'club together' to create a cross brand smart wallet is also curbing the trend towards digital loyalty schemes. When this does happen we believe consumers will enjoy the nirvana of all loyalty schemes."