Our eighth annual RetailX Top1000 Europe 2023 Report comes at a time when leading retailers are navigating a challenging economic period in which shoppers are cutting back on spending in the light of rising energy and grocery bills. The leaders in this Top1000 report are doing so by innovating and improving the service that they offer and within the report we explore the strategic decisions they make and the tools they use to do so.
This year, we bring a new approach to the way that RetailX researchers assess this market. The focus remains on performance and on the wealth of information about how retailers sell that we've built up over almost a decade. This year we've added to that with value chain-based analysis. This assesses how retailers – and brands – add value as they go through all of the steps involved in the process of selling goods to customers.
As Europe moves on from a long period of low interest rates, retailers and brands that sell to this market are recognising the importance of putting shoppers in charge as they look to win both their custom and loyalty. This means enabling shoppers to buy wherever, however and whenever they want to, while retailers must use data from customers to ensure that they are achieving this.
This comprehensive, annual report also includes 7 company profiles illustrating how the top retailers and brands are leading the way: Albert Heijn, H&M, Empik, Oysho, Castorama, GuitarGuitar and River Island. Also included is an interview with Ikea who is among the brands thinking again about how they sell as shoppers change their shopping habits once more.
Download the accompanying datagraphic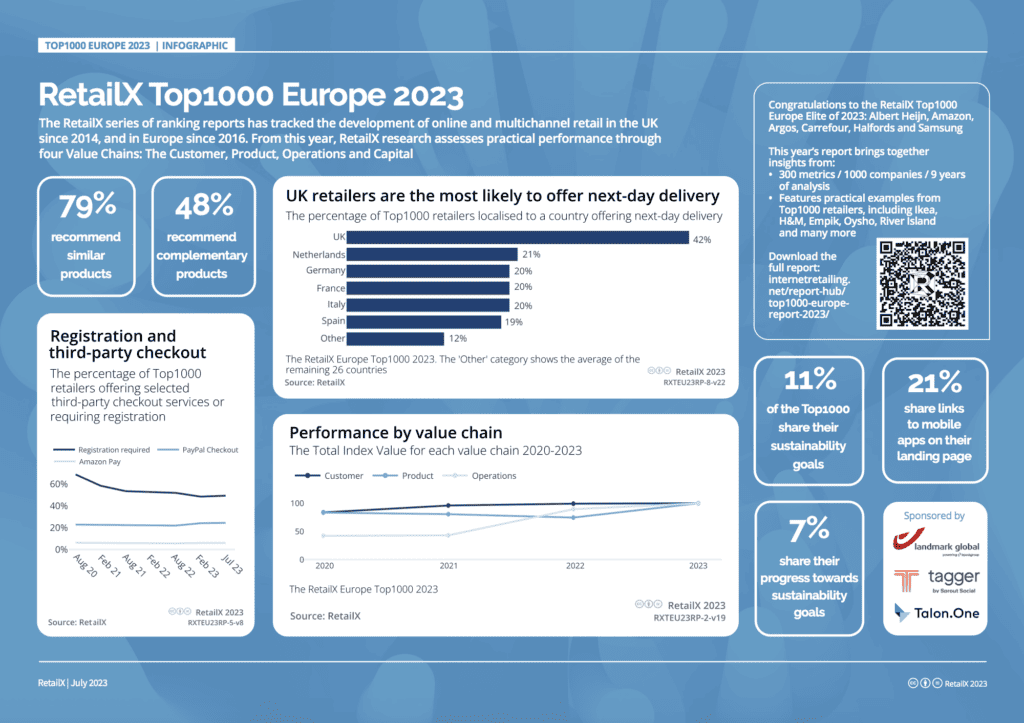 Purchase the RX Top1000 Company Information Data Pack for your CRM and analysis, includes: company, group, category, ranking cluster, related companies, holding company, social handles, turnover, share price and valuation and gross profit. Available now in an easy to upload format for £1,000 + VAT