Author: Evert Hemelaar, Country Manager Benelux at SCAYLE Commerce Engine
What do consumers want? An easy, seamless and personalized customer experience. And what do brands want? Efficient, reliant digital processes that help increase profitability while setting their brand apart from competitors. Here's where headless commerce comes in. It provides a flexible back end for setting up a unified, scalable, high-performant e-com system optimized for efficiency – particularly in B2C use cases. But what does that exactly mean?
What Headless Commerce Is – and What Not
E-Commerce software used to come in packages exclusively. There was one central back end, which was tightly connected with the front end – and any other functionality you needed, like PIM, OMS, ERP, CMS or Checkout. You could manage your entire business with this one software. And often, you would also have additional features you wouldn't even need but that were part of the package. The intertwined nature of these systems allowed for little flexibility because any change in the front end also affected the back end. Updates for one part of the system could easily cause errors in another, requiring high maintenance efforts. Adding new channels or functionalities might take months or even years, requiring lots of developer resources – and a good deal of patience.
Sounds familiar? That's how "modern" monolithic systems are still set up today – even though some of them have added some headless capabilities, like adding a headless front end or a headless CMS. However, proper headless systems are designed with a flexible core, separating the back end from the front end and adding other capabilities via APIs. Headless e-com systems like SCAYLE, therefore, provide one central back end that does not affect other parts of the system, while enabling total control of all touchpoints – whether mobile, online shop or in-store access points. Implementing new tools comes easy with headless commerce because you don't risk jeopardizing the whole system. Changes can be made much faster and single components can be scaled independently – just like you need them.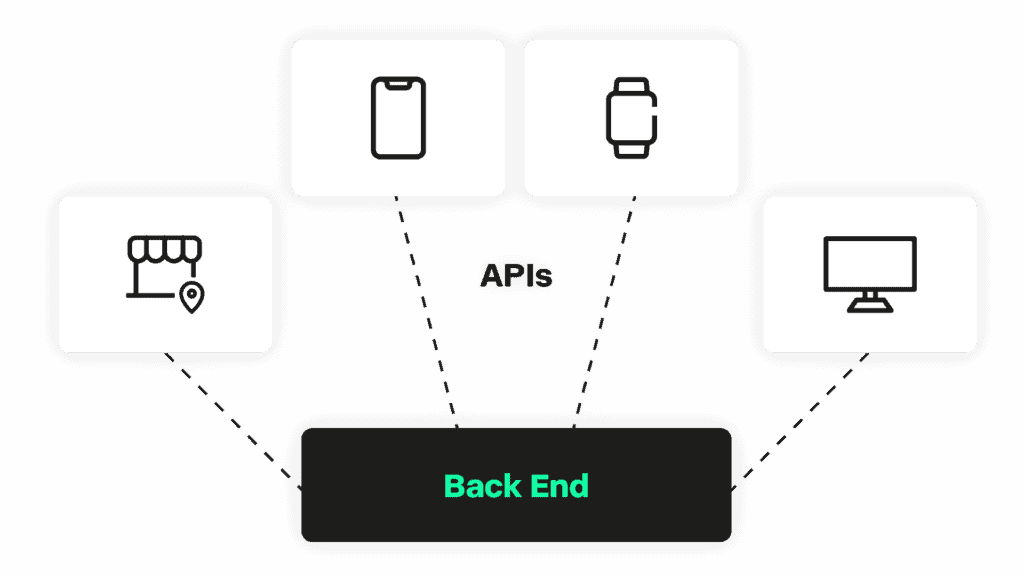 How Does Headless E-Commerce Help Brands Grow Their Business?
Maximum convenience and flexibility go hand in hand with headless e-commerce systems. This is because all data is stored in one central back end, adding new warehouses, stores and markets is accelerated. Your defined data quality can be enforced with automatic processes at the core that serve all your online and offline stores – and even your marketplace. You're no longer bound by any restrictions of the front end, allowing you to customize your touchpoints perfectly to the needs of your target audience and include personalization functionalities easily.
SCAYLE takes this even one step further by offering out-of-the-box functionalities like PIM, OMS or shop management that can be used by default if needed. As most B2C brands have the same requirements for central functions, there is usually no need to reinvent the wheel for these components and waste precious developer resources. Utilizing ready-to-use functions and integrations will empower brands to shift their resources to what differentiates them, like unique front ends and brand development.
Who Headless E-Commerce Is For and How to Start
Particularly high-growth brands benefit from taking a headless approach. It allows them to innovate on their terms with fast and flexible integrations. They can focus on creating unique experiences by reducing efforts for hygiene functionalities. And they will ultimately increase their profitability by lowering overall costs and diversifying their revenue streams by accessing new channels and delivering better personalization.
Migration from a monolithic or own-built system comes easy, even though it takes some effort to create a blueprint for the new architecture and harmonize all data. Depending on the current and target architecture, it usually takes three to six months to replatform and maybe even launch new county shops. However, this effort will provide a fully future-proof setup that is ready to accelerate your eCommerce business.