EU customers can once again shop at Fortnum & Mason with its array of food, drinks and luxury products available via a dedicated EU website, for the first time since the service was stopped due to post-Brexit customs challenges.
Fortnum's will be delivering to 15 countries from a dedicated fulfilment centre in Belgium. Shipping from the EU will enable the luxury brand to provide a "consistent and reliable service" for its customers.
Furthermore, Fortnum's will offer its UK customers the opportunity to ship to friends abroad, which historically accounted for nearly half of all EU deliveries; pre-Brexit, EU deliveries represented over 15% of all online sales.
The site will launch with a curated edit of Fortnum's most loved products including The Taste of Fortnum's Hamper, its Magnificent Spode Christmas Pudding, as well as the Toffolossus Biscuits, with a view to expand the range ahead of Christmas 2023.
The launch of this new proposition is part of Fortnum's ongoing strategy to meet international demand for the brand, with plans to open a store in Dubai International Airport (DBX) in the coming months, and a US distribution centre in 2024.
Tom Athron, CEO of Fortnum & Mason, said: "Fortnum & Mason is a brand that is loved the world-over, and so I am delighted to be launching our new EU website, to allow customers across Europe to shop with us once again. Outstanding customer service is vitally important to us at Fortnum's, and our new EU based fulfilment centre will allow us to navigate the post-Brexit export challenges to provide a robust delivery service to our customers in the EU.
"We are excited by the opportunities that our new EU website brings, as our online business continues to grow, both at home and internationally. This has been an ambitious project, and I am thrilled that after 317 years, Fortnum & Mason are still delivering firsts."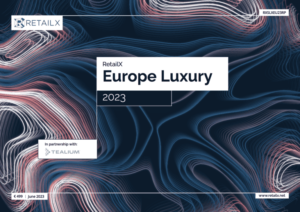 Discover more about luxury retailers across Europe in this dedicated 38 pages of market-leading research.
Download the RetailX Europe Luxury 2023 report to explore how consumers are increasingly shopping for everything they want on marketplace sites – from Amazon through to specialised luxury marketplaces such as FarFetch and Secret Sales.
Learn how this is forcing luxury brands to not only embrace ecommerce, but also to look at how to take the leap into not necessarily owning the customer themselves.