InternetRetailing chats with Boohoo's chief architect, Mark Elliott, at the Mach Two conference in Amsterdam about spearheading the launch of Debenhams on the new platform, launching the so-called "greenfield" project, and how the company is using AI.
On MACH ecommerce
The ecommerce giant acquired the high street department store in January 2021 in a deal worth over £55 million. However, the deal only included Debenhams' domain and other business assets, including a number of in-house brands.
At the time, Boohoo said: "The group intends to rebuild and relaunch the Debenhams platform, helping further the group's stated ambition to lead the fashion ecommerce market, and grow into new categories including beauty, sport and homeware."
However, Elliott says the group had just eight weeks to relaunch the website, revealing this was one of his first projects since joining the company in October 2020.
He says: "We just bought the domain name and customer records. We did not want the website to go dark, one day the site was turned off by the liquidators, and an hour later our site was up and running.
---
Subscribe to Internet Retailing for free:
Click here to sign up for our daily newsletter
---
"There was no integration," he reveals. "At the start, it was a very different customer proposition because we had no team from Debenhams.
"All we did was create a site and publish all Boohoo brands onto it. There was no Debenhams business or buying teams, and no developers either. The website was just packed with Boohoo products."
"Debenhams came at the right time for Boohoo. There was an appetite to get into a marketplace," he says. The company had always just been selling products from Boohoo, and wanted to get into selling other products and Debenhams was the perfect brand to do that with.
Since then the company has brought in a new team which has "evolved" the platform, which now features a raft of third-party retailers including MAC, Ray Ban, Lego and Estée Lauder.
However, Boohoo snapping up Debenhams was not the only big acquisition at the time.
On acquisitions and mergers
Just a month after Boohoo acquired Debenhams, it purchased Dorothy Perkins, Wallis and Burton from the administration from The Arcadia Group in a cash deal worth £55 million.
The move involved none of the existing ecommerce or digital assets, just customer data, related business information and a quantity of inventory.
When comparing the Boohoo acquisition to Dorothy Perkins, Wallis and Burton, Elliott claims the three brands from Arcadia were already in-flight, meaning the company had to spin up three new websites and integrate an existing warehouse in a matter of weeks to ensure it was a seamless journey for customers.
"We took on existing orders that had been placed, had Arcadia's warehouses and even had to issue refunds. We had that continuation, whereas, with Debenhams, there was nothing there but a clean canvas".
On future plans
"Boohoo will always be pure-play online, and the future is all about technology. Artificial Intelligence (AI) especially, every brand will be jumping on that bandwagon."
In regards to Boohoo group, Elliott claims there is "no part of our end-to-end business that cannot benefit from using AI".
He says: "AI can be used in the supply chain area, the customer facing website side of the business and even in the contact centres for buyers."
Instead, he compares AI to a calculator, assuring that AI is only used to initially "assist employees".
"It will be interesting to see how it plays out. There will certainly be an impact," he concludes.
---
Click here to view: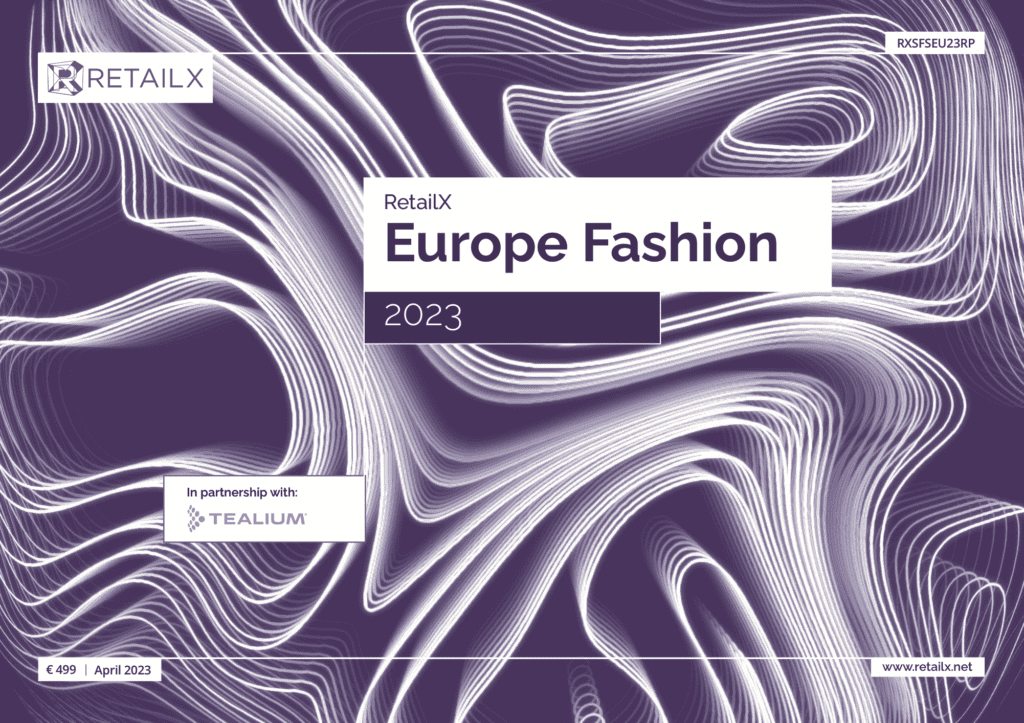 Boohoo features as a case study in RetailX 2023 Europe Fashion report, which unpacks how the European fashion industry has evolved in the past year and where it may be heading as it embraces sustainability, social commerce, the metaverse, AI and ChatGPT.