Pandora has announced plans to open a new pop-up experience on London's South Bank, with the installation designed to resemble a jewellery box.
Running between 09-19 November 2023 at Potters Field Park near Tower Bridge, the art installation has been inspired by Pandora's Christmas campaign, 'Loves Unboxed'.
Designed with creative agency Backlash, the art pop-up celebrates different interpretations of 'Loves' through the work of five of the UK's "most exciting up and coming artists": Hisham Echafaki, Renin Bilginer, Eve De Haan, Makiko Harris and Phoebe Boddy.
"At the heart of our Christmas campaign is the idea of celebrating all types of love and we wanted to bring this concept to life for consumers in a fun and engaging way," explained Sarah Chenery, marketing director of Pandora UK and Ireland.
"Pandora is a brand which celebrates self expression, and so we're particularly excited to be working with five talented artists who have all interpreted the concept in their own unique way, whilst also giving consumers the opportunity to do the same."
The recently published RetailX European Luxury 2023 report examines how Pandora has used personalisation to give the impression of a much more luxurious experience.
The third-largest jewellery company behind Cartier and Tiffany & Co, Denmark's Pandora is marked out as being one of a new breed producing affordable luxury, desirable, mid-market jewellery that commands some considered purchase, but which isn't out of the reach of the many. This is exemplified by its charm bracelet with addable charms, which was first marketed in 2000 and protected by a patent.
Since its formation in 1982, Pandora's collection has grown to include an assortment of rings, necklaces, earrings and, for a time, watches. By 2011, a Pandora item was sold somewhere in the world every second of every day, making it one of the biggest players in the affordable luxury accessory market not just in Europe, but globally.
As of 2022, 21% of the brand's revenues came from its online presence, just shy of the 28% garnered from third-party and wholesale distribution. The company's 6,500 stores worldwide brought in the remaining 51% of sales.
What marks the company out as a business is its extremely cost-efficient design and production model. Centred around a production facility in Gemopolis in Thailand which employs 13,200 of the company's 26,000 employees, it has low production costs and an efficient supply chain.
From this, Pandora has been able to expand to sell in more than 100 countries on six continents, through approximately 6,700 points of sale, including approximately 2,400 concept stores. With 90% of its sales taking place in Europe and the US, the company is now looking to target China.
Pandora consistently generates around €3bn in revenues each year and has, since the onset of the pandemic, grown its online presence considerably.
Launching into ecommerce in 2011, the brand has more recently instigated a company-wide programme – its Phoenix Strategy – built around the four pillars of brand, design, personalisation and core markets. This will see it offer global customers a seamless omnichannel experience between online and instore research and purchase.
In May 2021, Pandora announced the company would phase out mined diamonds in favour of gems manufactured in a laboratory. This new diamond jewellery was first sold in the UK before being rolled out globally during 2022.
Who shops Pandora?
Pandora has created its business around the idea of mass market, affordable luxury yet interestingly, it is the preserve of higher earners, with 21% of those with a household income in excess of €88,000 per annum making multiple purchases from the company. However, the mass-market appeal is demonstrated by the 28% of those earning below €88,000 per annum who also regularly buy from the brands. These customers include 14% of regular shoppers in the lower income bracket.
Aside from the more affordable luxury tag, this can also be explained by the brand's appeal to a more youthful market. 60% of Gen Z shoppers under the age of 26 and 67% of Millennials under 42 buy the brand, while no one over 78 does.
This approach of offering affordable luxury is a natural fit with a larger swathe of the European shopping public but it is the perceived luxury afforded by the individuality of the company's core charm bracelet that is of real interest. The bracelet is obviously a mass-produced offering at odds with luxury's traditionally hand-crafted approach. Yet the personalised nature of the charms gives the impression of a much more luxurious experience. The model is particularly appealing to younger shoppers since it offers a more affordable way to personalise higher-end jewellery.
This again cements the brand's identity with younger shoppers, who subsequently buy Pandora's more expensive items as they get older. This is likely to see the Gen X cohort grow as Pandora's millennial customers age.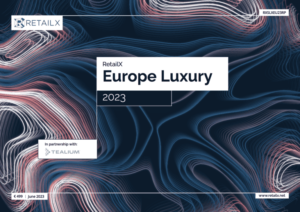 This company profile was authored by Paul Skeldon, and originally appeared in the RetailX European Luxury 2023 report. Download it in full to discover:
Why world-renowned brands dominate the Largest 50
Why is the European luxury sector still highly reliant on physical retail?