The European market for consumer electronics has seen growth driven by the pandemic, but geopolitics could be about to slow things down. So finds the RetailX Consumer Electronics Europe sector report. Here we take a look at some of those factors
DOWNLOAD THE FULL REPORT HERE
Although kickstarted in the 1920s by the advent of mass-market radios, the consumer electronics sector really took off during the 1970s, spurred on by gaming, home computing and increasing interest in hi-fi and colour TV. From there, the sector has boomed, with the global online sales of consumer electronics valued at $473.2bn in 2020 and on course to hit $540bn by 2027[1].
The impact of Covid-19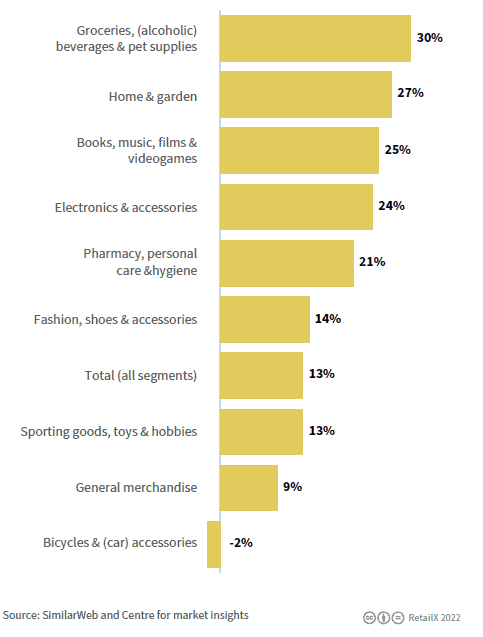 The consumer electronics sector is one of the top growth areas for ecommerce across the pandemic, rising 24% compared to 2019 levels and bested only by books, music, TV and films at 25% home and gardening (27%) and grocery (30%) (see Figure 4).
All these sectors have seen stellar growth driven by the pandemic as they are all centred around the home: food delivery, home and garden improvement and entertainment. In fact, the surge in entertainment demand from locked-down consumers led to the increased purchase of many consumer electronics staples such as smart TVs, smartphones and computers, driving growth. Simultaneously, the sector also benefitted from the surge in home working. Driven too by lockdown, many of the same consumer electronic items, particularly computers and smartphones, along with digital cameras and lighting, were also purchased to facilitate working remotely.
Overall, this Covid-led growth in consumer electronics sales has been seen worldwide, with all regions seeing expansion (see Figure 5, overleaf). Globally, the average stands at 43% growth in sales of premium consumer electronic sales growth and 17% in standard. Latin America witnessed the greatest growth (53% and 30%, premium and standard). EMEA saw much lower growth relative to this, at just 30% and 17%.
This disparity is caused by the relative existing penetration of consumer electronics at both the standard and high-end in these markets. EMEA, driven by Western Europe had a relatively high level of pre-existing consumer electronics penetration pre-pandemic, which while it did see a surge in spending, it was not on the same scale as more 'catch up' markets such as that of Latin America.
The overall picture, however, is that Covid has added considerable growth to the sector overall in Europe and has led to continued albeit slower growth across 2021 and 2022, which looks set to continue into the decade.
DOWNLOAD THE FULL REPORT HERE
The impact of Brexit
The UK's exit from the EU has impacted retail in many ways, but the consumer electronics sector has seen one of the most far reaching. From 1 January 2021, consumer electronics goods being sold in the UK have to be certified not by the EU conformity assessment criteria – the CE mark – but to a new set of UK-specific regulations, the UKCA.
The UK Conformity Marking replaces the EU's CE mark for electronics goods sold in the UK and brings together a range of existing technical specifications – across gas appliances, radio equipment, electromagnetic compatibility and other safety and security regulations – from EU law into a new UK assessment.
While the technical specifications remain the same, goods have to pass the criteria laid out by the UK government to achieve a UKCA mark. If these goods are also being sold in Europe they have to also attain a CE mark.
This process adds a new layer of regulatory complexity for manufacturers and sellers of consumer electronics within the UK and the EU, as they have to be passed by both authorities. This slows down bringing items to market, as well as impacting those that want to import goods manufactured outside of both the UK and EU into both markets.
DOWNLOAD THE FULL REPORT HERE
The impact of geopolitics
While Brexit has caused issues around certification, the consumer electronics sector is even more impacted by the wider geopolitical landscape.
The consumer electronics industry relies on goods that are truly international. Chips are made in China from Lithium mined in Russia, put into equipment designed in Europe, the US and Korea and sold all over the world by a wide range of wholesalers, resellers, retailers and brands.
The changing political landscape worldwide has an obvious impact. The war in Ukraine, in particular, is affecting, among other things, the production of raw materials used in the making of electronics components and devices, with neon – a key component in semi-conductor production – particularly under threat.
The sea port of Odesa is home to Cyoin Engineering and Iceblink, two companies that produce 70% of the world's neon gas. Meanwhile, Mariupol – taken by Russian forces – is home to another major producer of neon, Ingas.
The situation is further complicated by Russia supplying the unprocessed neon to these Ukrainian companies to process. Many manufacturers stockpiled neon when invasion looked imminent, but these supplies will run out.
The war is also impacting sales and supply chain. As part of its reaction to Russia's invasion of Ukraine, the US blocked all sales of chipsets to Russia. Russia accounts for around 1% of consumer electronic sales globally, but it is still a large reduction in revenues for many manufacturers.
China, however, is not blockading Russia and so is likely to divert some of its semi-conductor and device production to plugging this gap. This will cause supply chain – and so cost – issues elsewhere in the supply chain, leading to rising prices and more scarce supply.
The move by China could also invoke the ire of the US, worsening already stalling Sino-US relations, leading to further complications to the global supply chain issues in the sector.
The global shipping crisis, caused by the lay offs of air, land and sea cargo handlers, drivers, pilots and crew during the pandemic, is also seeing the sector facing unprecedented supply chain issues.
This impacts both the supply of raw materials and components, as well as the shipping of finished goods to their destination markets.
Combined, the impact of Covid-19 on supply chains and the on-going disruption to access to raw materials, processed materials and components has the potential to impact the consumer electronics industry significantly in the months and years ahead.
DOWNLOAD THE FULL REPORT HERE
The lithium gap
Lithium is a core component of batteries and soaring demand from both the consumer electronics market and, increasingly, the electric vehicle sector has seen demand for this reactive metal accelerate across the decade – with predictions for the 2030s pointing to a gap between current levels of lithium mining and demand: the lithium gap.
Demand for lithium in 2021 was about 500,000 metrics tons of lithium carbonate equivalent (LCE). By 2030 this could be between 3 million and 4 million metrics tons LCE. Production is set to be around 2.7 million metric tons LCE [2].
While lithium production is expected to grow by around 20% per year between 2020 and 2030, there is still set to be a shortfall. With 98% of LCE being mined in Australia, Latin America, China and Russia, geopolitics could also see this growth slowed still further.
With issues already in play around access to any raw materials from Russia, with supply from China to certain other nations looking fragile and the general slow-down in employment activity worldwide, the production of lithium could see this lithium gap widen, again potentially impacting the productivity and retail cost of consumer electronics goods.
New technologies for recovering lithium carbonate from oil drilling waste water, along with increasingly cost-effective lithium recycling technologies may yet off-set these issues, but the lithium gap remains a potential brake on the development of the consumer electronics and many other industries that are dependent on batteries.
DOWNLOAD THE FULL REPORT HERE
References
[1] The Business Research Company, https://www.thebusinessresearchcompany.com/report/consumer-electronics-ecommerce-global-market-report
[2] McKinsey, https://www.mckinsey.com/industries/metals-and-mining/our-insights/lithium-mining-how-new-production-technologies-could-fuel-the-global-ev-revolution