Marketplaces have evolved rapidly. This momentum has been maintained as they now embrace technology and new ways to sell.
The recently published European Marketplace 2023 report highlights some new technologies and even new business models that will be important as the sector evolves even further next year.
AI-powered recommendations
The need to differentiate through better product recommendations in a crowded market – and even using tech to appear to allow shoppers to spontaneously 'discover' new things – is about to step up thanks to artificial intelligence (AI).
Recommendation engines on marketplaces and retailer websites are nothing new but their level of sophistication is growing as ever-more powerful AI is brought to bear. This garners much deeper insights into consumer behaviour, allowing for much richer and more nuanced recommendations.
And it's not just for existing customers. The holy grail is to be able to recommend things – at least in the right ballpark – to anonymous customers. Today's (and even more so, tomorrow's) AI is starting to be able to do this by having the power to better 'understand' what these new customers look at, where they linger and how they behave on the site. This can then help deliver much more intelligent suggestions and guide shoppers not just to products but also to discounts and offers and even to sign up.
This is vital to marketplaces of all types. The sector is becoming increasingly competitive and, whether a flat, generalised marketplace or a vertical specialist, understanding what customers want is vital.
This trend will be seen in 2024 across all ecommerce, not least as retailers attempt to make their non-marketplace sites perform better than their marketplace competitors. Because of this, marketplace offerings that don't look to AI-powered, deeply intelligent recommendations will struggle.
Chatbots, AI and voice commerce
AI will not just be confined to recommendations – it has a role to play across the whole ecommerce process, from marketplaces to traditional D2C sites. One of the key areas where it will come to the fore is in chatbots and other tools that allow communication between a marketplace, the retailer and customers.
Of course, chatbots are already used across ecommerce, handling FAQs via instant messaging and routing queries to customer service agents based on 'intelligently' assessing what the consumer is asking. This is very much chatbot 1.0 though and as AI has exponentially increased in power – and ubiquity – over the past 24 months, so too have the power of AI run chatbots.
Moving on from 'simple' rules-based responses to key words and phrases to find answers or redirect a query, today's AI allows for self-learning that leads to a degree of understanding. The use of generative AI technologies such as GPT4 can also help create bespoke and highly conversational answers. Combing this 'self-learning' and generative approach with rules-based systems can, in theory, create a much more realistic – although still totally artificial – interaction between brand and customer.
While this can help handle far more consumer interactions than a team of humans ever could, its true potential lies in how to elevate all these interactions beyond being just reactive to customer comments into towards creating genuine two-way 'conversations' akin to how an old-style shop assistant may have helped guide customers to buy. This has the potential – along with AI-powered recommendations – to create a new paradigm in online selling, cross-selling and up-selling.
For today's marketplaces, this combination is likely to be a much-needed differentiator in the competitive years ahead. It also once again shifts the nature of ecommerce from something that a customer does, towards something that happens to, or, even better, with the consumer.
News in late 2023 that Facebook owner Meta is poised to release chatbots with a personality on Facebook Messenger will only fuel this growth in conversational interaction.
The application of AI to voice also lends itself to voice commerce. Already well documented when smart speakers such as Amazon's Echo and Apple's HomePod first hit the headlines, the use of voice to interact with websites and sellers has, to some degree, failed to ignite widespread interest. Yet with natural language processing (NLP) and generative
AI surging ahead, the ability to interact verbally with marketplaces is likely to return to the agenda only this time, it won't just be through smart speakers. To gain mass appeal, it will be through the websites and apps of the marketplaces themselves.
It seems inevitable that the internet will slowly edge towards being some sort of metaverse – a more immersive semi-naturalistic platform where interaction is less about typing and clicking and more about pointing and speaking. When it does, natural voice interaction and chatbots are likely to become one of the main ways we all use the web, including how we shop on marketplaces.
Messaging, payments and super apps
This shift towards talking to marketplace apps is potentially a huger, broader shift in how everyone will interact with the internet. In the instance of marketplaces, it will allow consumers to talk to these vendors – actually, their AI-powered apps – to search, get recommendations, discuss products and then buy them in a much more naturalistic way.
Already many younger people are communicating by sending each other voice messages. Apple has added the ability to send video messages via its FaceTime messaging app. Facebook is, as said, creating chatbots with personality. The way we access the web is already changing.
Even for those who aren't shifting to this new way of communicating with the digital world, messaging services such as SMS, iMessage, WhatsApp and social media messaging are all increasingly playing a role in how consumers interact with the companies they do business with. The era of conversational commerce – be that through text or voice – is upon us and it's set to create some radical new ways in which we shop. Social media sites, for instance, are shifting from carrying promotional posts about retailers to allowing consumers to buy from them, adding to this conversational commerce model.
Combining messaging and social engagement with shopping – and indeed payments – can create a powerful new 'marketplace' model. Bringing them all together in one place to create a 'super app' has the potential to build a new, rich way to interact with retailers which, in turn, can lead to greater sales.
Such super apps already exist in China. WeChat, for example, combines social media, messaging, payment and ecommerce in one app. Elon Musk's rebrand of Twitter to X and the changes he has instigated at the platform are rumoured to be laying the groundwork to turn X into such a super app. For marketplaces, this presents an opportunity.
The platforms already have the customer base, the products and the payments tools. Add in messaging and engagement and they could relatively easily shift to being super apps. Conversely, social media platforms have the customer base, the messaging and the retailers on-board. As they add ecommerce, they too are also poised to do the same.
As the internet slowly edges towards being an immersive metaverse, these super apps would be perfectly positioned to usher in a whole new modus operandi for online sellers and customers – radically altering not only what constitutes a marketplace, but also what the internet actually looks like to its users.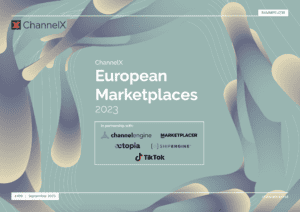 This feature was authored by Paul Skeldon, and appears in the ChannelX European Marketplaces 2023 report.
Download it in full to discover what the marketplace landscape looks like today; what factors are key to a successful marketplace; and how marketplaces are working to try and protect both brands and customers from fraud, counterfeits, and piracy?