An exclusive case study in the recently published RetailX Global Fashion 2023 report covers Zara's transformation from a boutique called Zorba, after the movie Zorba the Greek, into the largest company in the Inditex Group's retail portfolio.
Today, the retailer is the epitome of quality fast fashion, reputedly able to develop, create and get new designs to stores within a week – much faster than the three to six month industry average. This is a direct result of the company's long involvement with just-in-time (JIT) production techniques, which it has used since 1990 – again, very much ahead of the rest of the industry.
Such processes have allowed Zara to be very self-contained across the whole process, from material manufacture and supply through to completion and distribution.
Consequently, Zara is extremely agile, with those styles that aren't selling well pulled and replaced with new designs weekly or fortnightly. This not only keeps the retailer selling what customers want but also gives customers a reason to visit often.
This approach also placed Zara in a prime position to create and exploit ecommerce from its inception and the company now has one of the largest webstores by traffic in the world, sitting just behind Zalando, Shein and H&M. Notably, Zara also never advertises – a strategy that goes against the rest of the fashion industry but which still seems to work.
However, Zara's rapid turnover in stock has seen the business face a degree of environmentalist backlash and has had to find a way to offer more sustainable and environmentally friendly garments. As part of this, in November 2022, it rolled out a trial of a pre- owned platform across its website and app in UK.
Other than posting now-unwanted Zara purchases online for sale, shoppers can book repairs and donate unwanted items online or via a store. If successful, this will be rolled out across Zara's other territories. Additionally, the retailer has worked with Greenpeace to eliminate toxic chemicals from the production of its fabrics and, since 2020, has eradicated all these from its entire production process.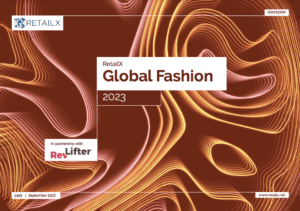 This compared profile was authored by Paul Skeldon, and originally appeared in the RetailX Global Fashion 202093 report. Download it in full for 10 company profiles and 12 snapshots – learn from the industry's best as they share their success stories and strategies. Includes Asos, Shein, Zara, Karen Millen, Hibbert Sports, Warehouse, M&S, Zalando and many more