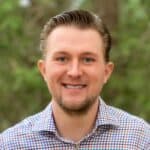 This summer Google announced plans to do public tests of augmented reality (AR) glasses in 2023. Although the company had a seemingly unsuccessful launch of its Google Glasses about 10 years ago, AR technology has advanced quite a bit and the possibilities for how this technology could be used are truly limitless. Kelly Goetsch explains
AR is the integration of digital information, in real-time, with a user's environment, whereas virtual reality (VR) creates a completely artificial environment. With AR, users experience a real-world environment with generated perceptual information laid on top of it, so in the case of Google, while wearing the new glasses, a user would experience their world with an added layer of information. While AR has been around for a while this announcement brought new momentum to the discussion about AR, stealing away some attention from the over-hyped Metaverse conversation.
If I'm reading the signs correctly, we are on the cusp of seeing a wave of headsets, eyewear, and devices that will make AR much more approachable for the mass market. These will truly augment our physical world, and change the way we shop for good.
Google is joining Apple, Facebook, and Microsoft in readying products for release globally over the next 12-18 months. Learning from the mistakes of earlier devices, it's likely that these devices will have greater security to ensure data privacy, and will feature more fashionable, normal-looking designs that keep the wearer from looking like a "Glass Hole" as people who wore them were famously called. It's also likely that these devices will become more mainstream, as consumers have become more familiar with the concept of AR in their everyday lives from practical apps on their smartphones. This will greatly impact consumer adoption, and expedite the proliferation of this technology.
The reason for the revival of AR is it is a natural next step in the digitisation of our everyday lives. There are so many instances in which you can augment physical worlds with a virtual overlay, and commerce is an excellent use case. For example, if you are in a store, you could look at a product on a shelf while wearing AR glasses, and ratings and reviews could pop up to help inform your decision-making. There are also opportunities that can go much further, such as when you catch a glance at somebody's handbag walking down the street and the online listing for that bag pops up with the product details or directions to where you can then buy that item near you. Or, if you only like shopping with ethical brands, AR could be used to show the ESG rating for the factory an item was made in or how the materials were sourced. The options for how AR can be used in commerce are really limitless.
AR works because it makes the whole physical world even more shoppable by tying the virtual and physical worlds together. By contrast, aside from strong niche applications in fields like medicine and training, VR will have a limited impact on the consumer world, because it is so divorced from our physical reality, and it is inherently lonely. With VR, you end up sitting on your sofa, isolated from the entire world around you. A virtual world is just not a place that consumers want to hang out or spend time in. It is a very isolating, limiting experience, which is why so many Oculus headsets are sitting on shelves, gathering dust worldwide.
While AR once seemed like an "out of this world" idea, new generations of better hardware and technology are enabling AR's acceleration, especially as major vendors have invested in the space in a big way. Just 10 years ago, the commerce industry was still very much driven and dominated by physical, brick-and-mortar retail. Now, with the rise of eCommerce, the industry is built around an API economy that allows for rapid innovation. In order to provide the AR-based commerce experiences that will take rise in the coming years, the adoption of headless commerce will be essential. Headless commerce is API-enabled, which would allow AR devices to quickly and seamlessly connect and call up data. Adoption of GraphQL will also be essential to bringing AR-based commerce to the market. AR devices are low bandwidth, low power, and high latency. They only have the ability to make one API call at a time. However, with GraphQL, you're able to overcome this and retrieve the data in order to provide a powerful virtual experience.
To take advantage of AR, retailers and brands need to ensure their commerce systems are ready and API-enabled in order to consume whatever data and functionality these devices offer. As AR becomes more popular, it is also important that businesses have the capabilities to quickly prototype and test new AR experiences to make sure these are what their customers are looking for. This is likely to be a challenge for many retailers who may need to look to third-party agencies to step in.
Another challenge that is likely to arise is the gatekeeping of AR platforms by the technology industry behemoths. Knowing that AR is likely to be the next big thing in retail, these companies are already working to build their own platforms and could be seeking to control the development of AR experiences through app store-like functionalities. These options might seem attractive for brands to sign on to be a part of, but could be very limiting in the long run. My advice? Start your own AR journey now, and work quickly, so you aren't left out of the game.
Whether dominated by a few major players or not, the need for competitive differentiation in how retailers and brands build customer experiences for existing channels, and for new ones, like AR, is an impetus for who will be successful in the next generation of retail, and who will fall short. Those who have embraced composable commerce technologies and their adherence to API-first architectures will have the advantage here. The composability that composable commerce provides means a retailer can consume data and functionality from an AR device, á la carte, exactly as they are needed. The headless principles mean the whole stack of commerce functionalities, like catalogue, ordering, or payment can interface with whatever "head," such as the Google or Apple AR device, is chosen by the consumer.
AR will be transformational to not only how we experience commerce, but how we go about our daily lives It's in its infancy now, but if the way we've changed our buying habits is any indication, I predict in the next five to 10 years wearing a pair of AR-enabled glasses to the grocery store to help you find the items on your digital shopping list will be a routine practice.
Author
Kelly Goetsch is Chief Strategy Officer, commercetools