As the world's fifth-largest economy, France is always going to be of interest to retailers and those wishing to expand.
This year's France Ecommerce Country Report considers the key changes in this affluent market since the pandemic, as well as what sellers should be doing about it. From the general antipathy towards Amazon, to the preference for buying local – readers will come away with a wealth of knowledge which will help them better understand the needs of the French consumer.
The French economy has shown unprecedented growth but how will it fare in the face of current global unrest? Why does an emerging circular economy make French marketplaces worth watching? What does RetailX data say about the Largest 100 retailers currently selling within France?
Get the full report now to find out all this and more so your business, whether a start-up or retail giant, can overtake the competition in this burgeoning B2C landscape.
Report highlights:
34 pages of bespoke research into the French ecommerce market, including shopping habits, post-pandemic considerations and more

Over 30 easy-to-read RetailX figures and sources

Deep-dive insight into the largest 100 retailers selling in France
Infographic Summary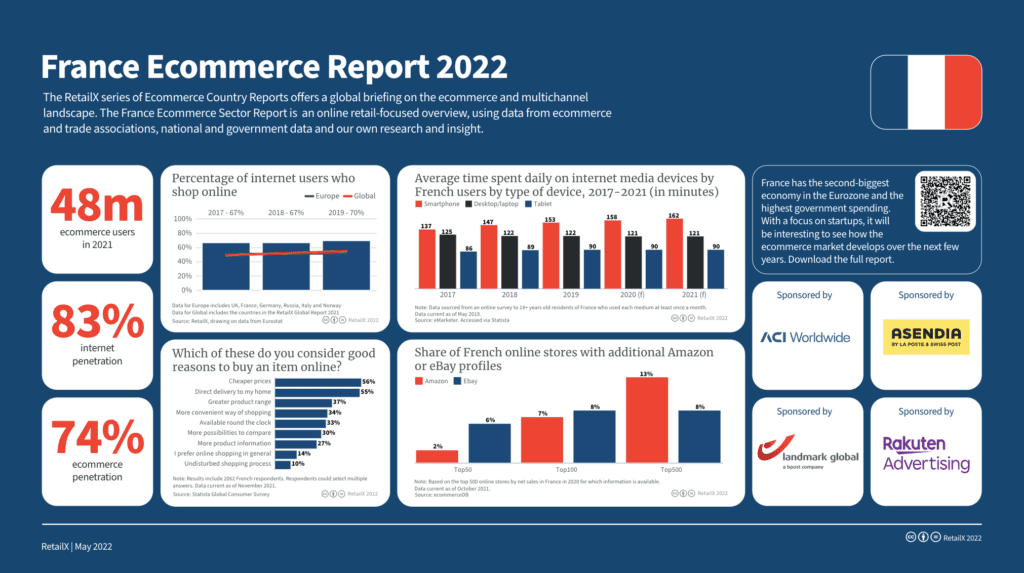 Download the full report now and discover why:
Cross-border ecommerce is up everywhere but French consumers like to buy local

Antipathy towards Amazon and an emerging circular economy make French marketplaces worth watching

The future is omnichannel for the ecommerce-happy French e-shopper