The UK Luxury 2022: Ecommerce Country Report offers unparalleled insight into the state of the luxury market in the UK, including leading luxury retailers and brands, consumer behaviours and direction of growth.
First, we take you through the market context, zooming in on the leading categories of fashion, perfume and cosmetics. Illustrated by RetailX graphs, you will discover how UK spending has changed in the luxury sector since the pandemic hit and merchants were forced to pivot to selling online.
The report also analyses the luxury consumer; looking at how often they shop online, as well as why and what for. We then move to focus on the largest 100 luxury retailers, noting headquarter location, and web traffic YOY change by quarter.
Multichannel and ecommerce retailers and brands will come away with an in-depth understanding of the UK's luxury market and where it's headed.
Spotlighted company profiles include: Barbour, Burberry, FarFetch, Lyst, Matches Fashion and Ted Baker.
Infographic Summary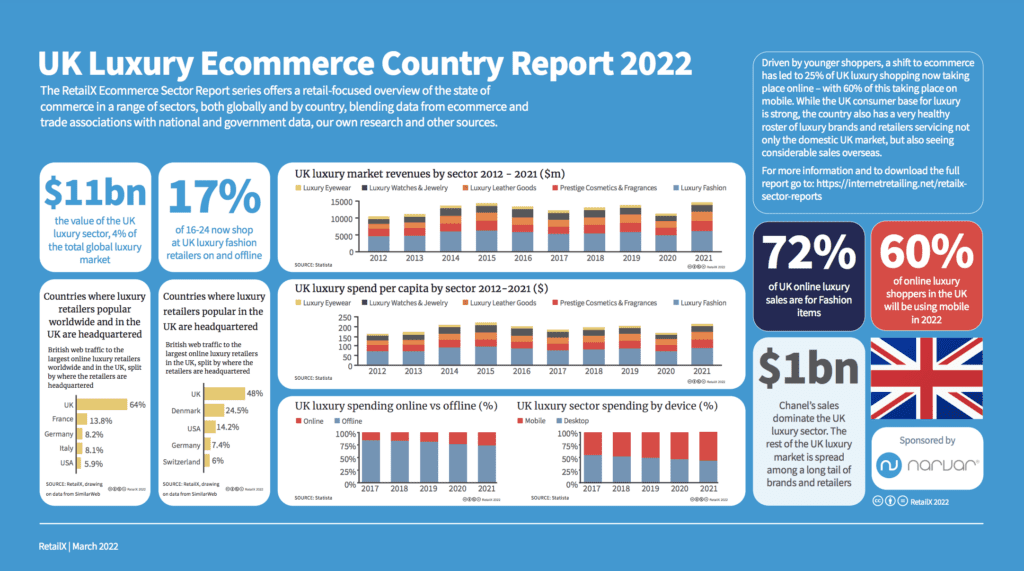 Report highlights:
18 pages of industry-leading research and analysis.

10 unique RetailX graphs and figures.

6 exclusive case studies with key players in UK luxury.
Download the full version and gain access to:
A detailed commentary on the UK luxury market context, including UK luxury market revenues by sector.

Actionable insights into domestic and international sales within the wider luxury landscape, as well as the role of new pureplay luxury sites.

The need-to-know shifts in consumer behaviour across the UK luxury dimension.
Want to learn more about the wider global luxury sector? Download our RetailX Luxury 2022: Sector Analyst Report now.