According to the UK government, more than a third of UK businesses are well on their way to being carbon neutral – but there is still a long way to go.
UK retail is quite in tune with sustainability demands. Many consumers are actively shopping with brands that have a good environmental policy and, despite the expense, actively chasing net zero can have huge payback with consumers, even in the cost-of-living crisis.
So, what are UK retailers and brands doing to 'go green' and how close are they to being carbon neutral?
M&S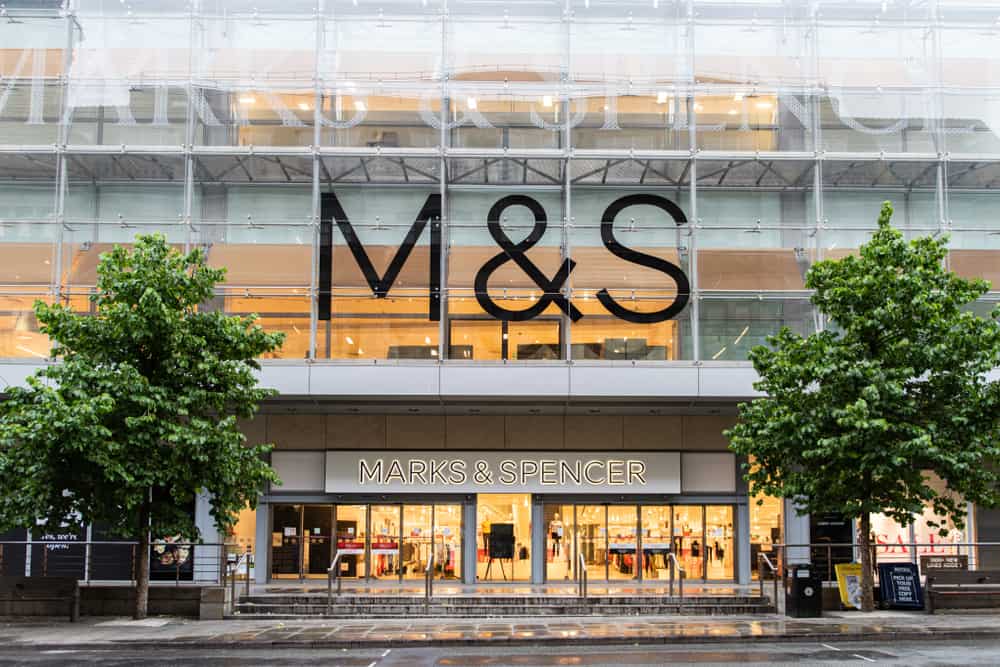 While M&S may have struggled to stay in tune with the fashion zeitgeist, it has been way ahead of the carbon neutral curve, being a zero-carbon company since 2007.
The company's Plan A sustainability plan saw the company reduce its carbon footprint by 75% by 2017 and is well on track with its Plan B scheme to hit 90% reduction by 2035, it says.
How has it done this? The first step has been to focus on energy efficiency in stores, production and transport. The company is on track to save 60% of its energy across stores, offices and distribution centres by 2025.
It has also encouraged its employees to look at reducing their own carbon emissions and energy use at work and in their non-work lives.
Being an own-brand retailer, the company also has control over how and where its goods are made and has gone to great lengths to make sure that products are sourced and made ethically and greenly. It continually works with suppliers to keep waste and environmental impact within acceptable levels.
Its food products are also grown sustainably and the company works hard to keep supply as local as possible to cut down on transport emissions.
The same applies to workers in the factories making the goods. M&S has a strict and comprehensive set of policies, codes of practice and guidelines setting out its minimum requirements for suppliers to adhere to so that they meet the retailer's commitment to customers to deliver products that are safe, legal, high quality and produced with integrity.
SportShoes.com
Planning to be the world's most sustainable running shoe retailer by 2025, SportsShoes.com is already well on its way to achieving its goal, having offset 40 years' worth of carbon in 2022 to celebrate its 40th anniversary as a retailer.
SportsShoes.com sells more than 17,000 products from 150 global running and outdoor brands such as Asics, Nike, Adidas, Hoka and New Balance. It also sells many leading outdoor brands, including Haglöfs, Montane, Rab and Patagonia.
To drive its sustainability pledge it has implemented a 'Leave No Footprints' sustainability strategy, which was developed in conjunction with sustainable innovation consultancy Ape, and which involves a full impact assessment of the business to calculate the size and composition of its carbon footprint.
The effectiveness of the Leave No Footprints strategy was first felt in April 2021 when the company achieved carbon-neutral status.
The next big step in SportsShoes.com's sustainability journey has been exploring carbon offsetting, starting with emissions from heating, lighting and powering the business. To offset these emissions, the company collaborated with Yorkshire-based woodland regenerative project 'Make it Wild', which is replanting native woodlands that are guaranteed to grow for at least 30 years.
The company also cares about the impact of the products it sells and how they are produced, so in 2021 SportsShoes.com launched its first sustainable store.
This sees the retailer working with brand partners to identify products that have a lower environmental impact, SportsShoes.com's store features apparel and footwear that is environmentally conscious.
Amazon
The behemoth online seller Amazon has pledged to be carbon neutral by 2040 and is already well on its way to achieving its goal.
By 2022, the company was the largest purchaser of renewable energy in the world, using 85% renewable energy across its business. The company has invested in renewable energy projects in 18 countries worldwide, with solar projects in South Africa and the United Arab Emirates online. It has also announced new projects in Singapore, Japan, Australia and China.
The projects in South Africa and Japan are the first corporate-backed, utility-scale solar farms in these countries.
Amazon also announced two new offshore wind projects in Europe, including the largest renewable energy project to date and by the end of 2021 had enabled more than 3.5 gigawatts of renewable energy in Europe through 80 projects.
It has also reduced packaging by 38% globally and has delivered more than 100 million packages worldwide using zero-carbon vehicles locally.
Its longer haul transport has proved more tricky, but Amazon has attempted to tackle emissions in North America and Europe by increasing total rail load volume and expanding Amazon and leased rail assets.
The retailer has also deployed battery electric trucks across its heavy commercial trucking fleets and began switching to vehicles that use alternative fuel sources, such as compressed natural gas (CNG) trucks.
As of 2021, Amazon had ordered more than 3,000 CNG vehicles and was procuring millions of gallons of renewable natural gas created from waste stocks to power them, significantly reducing carbon emissions and particulate matter pollutants.
The company, which also ships things by air, has also invested in alternative fuels, such as sustainable aviation fuel, which reduces carbon emissions in flight by up to 20 % over standard aviation fuel. Amazon secured more than 5 million gallons of low-carbon aviation fuel in 2020 and agreed to purchase up to 6.5 million gallons in 2021 and 2022.
Sainsbury's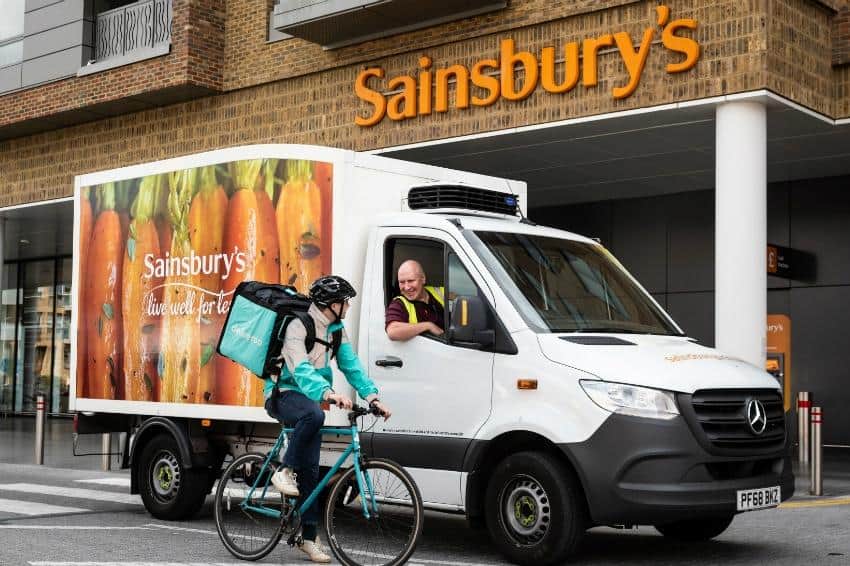 Back in 2020, Sainsbury's committed to investing £1 billion over 20 years towards becoming a Net Zero business across its operations by 2040, aligned to the highest ambitions of the Paris Climate Change Agreement and a decade ahead of the UK government's target.
The retailer's current carbon footprint is one million tonnes, which is a 35% absolute reduction in the last 15 years despite its space increasing by 46% over the same time frame. For the last six years, Sainsbury's has been awarded an A rating for taking action on Climate Change by the CDP, the highest rating of any UK supermarket.
Sainsbury's has been using the £1 billion investment to implement a programme of changes, with a focus on reducing carbon emissions, food waste, plastic packaging and water usage and increasing recycling, biodiversity and healthy and sustainable eating.
The investment will enable the business to fulfil Scope 1 and Scope 2 emissions, putting the business on course for Net Zero a decade ahead of the UK government's deadlines.
The retailer will work with the Carbon Trust to assess emissions and set science-based targets for reduction, publicly reporting on progress every six months. The targets will align the business to limit global warming to 1.5°C, the highest ambition of the Paris Agreement.
By 2022, the retailer had reduced absolute greenhouse gas emissions by 38.2% and was using 100% renewable energy across its business. It has also switched to 100% LED lighting across its store estate.
It has also become the first supermarket chain to introduce electric refrigerated trucks across its fleet.
Tesco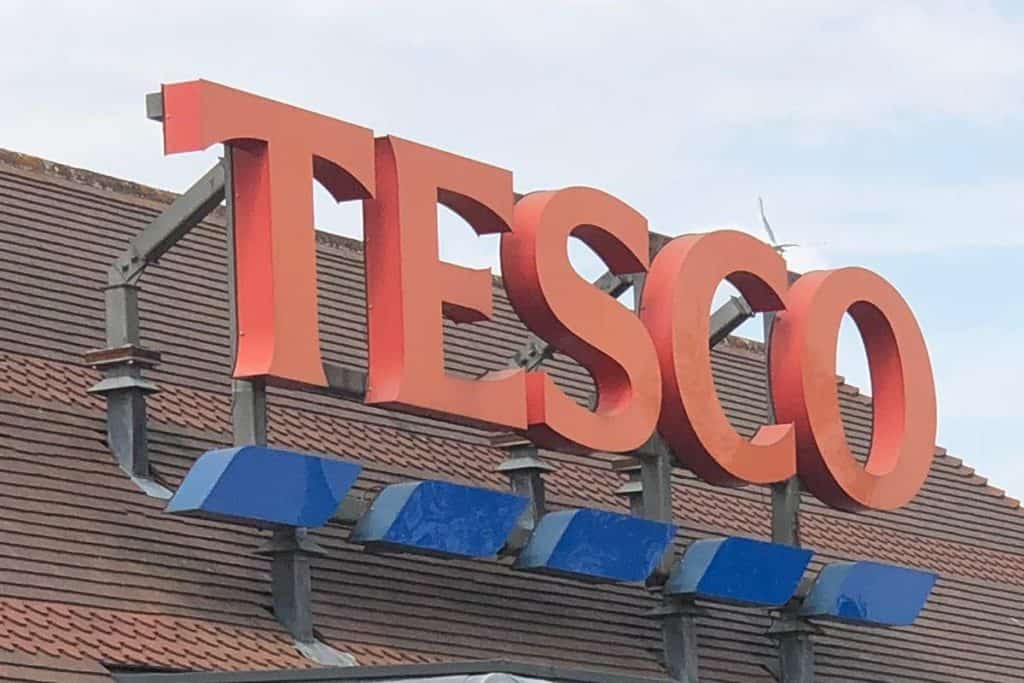 Tesco has committed to be net zero by 2050 and is already well on its way. The first FTSE 100 company to commit to science-based targets in line with the Paris Agreement's 1.5°C target, by 2022, the retailer had achieved an absolute reduction across its operations of 55% against a 2015 baseline. It has done this using energy and refrigeration more efficiently and by adopting 100% renewable electricity across the Group.
In 2023, Tesco became one of the first companies globally to have its Forests, Land and Agriculture (FLAG) and non-FLAG net zero targets validated by the Science Based Targets Initiative (SBTi), a leading, globally renowned body that defines best practices for science-based climate targets.
Tesco's targets include stretching interim commitments to reduce absolute Scope 1 and 2 emissions from its operations by 85% by 2030 from a 2015 baseline year, absolute Scope 3 emissions from energy and industrial sources by 55% by 2032 from a 2019 baseline year, and absolute Scope 3 emissions from forest, land and agriculture (FLAG) emissions by 39% by 2032 from a 2019 baseline year.
The company is also supporting all suppliers to establish their net-zero ambitions and to set science-based targets. This includes a move to renewable electricity sources for all manufacturing sites.
Tesco is also committed to 100% deforestation-free primary risk commodities, including soy, palm oil, wood and paper, by 2025 and is rolling out sustainable agriculture innovations such as low-carbon fertilisers, across several key veg suppliers.