Ecommerce giant Shein has acquired Missguided from Frasers, only one year after the group rescued the Manchester-based fashion firm from administration.
Under the terms of the deal, the Chinese fast fashion seller will acquire the IP and trademarks of Missguided, whilst Frasers Group will retain Missguided's real estate and employees which have been integrated into Frasers' fashion division.
Furthermore, Shein has announced that it has entered into an agreement to license the Missguided brand IP to Sumwon Studios, a joint venture between Shein and Missguided's founder Nitin Passi.
The brand will now be managed through the joint venture, its products and collections will be manufactured through Shein's on-demand production model, and sold on Shein sites and on Missguided.com.
"The joint venture we have entered ushers in a new format of partnerships for Shein, as part of our unwavering commitment to meet customer demand," explained Donald Tang, Shein's executive chairman.
"Shein aims to reignite the Missguided brand, capitalising on its unique brand personality, and fuelling its global growth through Shein's on-demand production model, unparalleled ecommerce expertise and global reach."
Shein company profile
Shein has become the largest online fashion seller in the world, dwarfing all other players both in terms of user numbers and inventory. Its revenues have doubled in a year and now the retailer is poised to also take the title of largest by turnover.

The company started life in China as an online wedding dress portal in 2008, branching out into general womenswear by 2010, then into all fashion by 2015.
By rapidly turning over its inventory – putting out up to 2,000 new items daily – the app-only retailer has seen user numbers grow rapidly worldwide, sustaining the business even throughout the pandemic and the cost-of-living crisis.
Early growth came from within China, along with strong sales in India and Saudi Arabia. More recently, the company has generated rapid growth from expansion into Brazil, Mexico, the US and Europe.
While Shein has been selling into Europe since the mid-2010s, it is only recently that sales took off. By 2022, it had generated $30bn in revenues, up 91% on the $15.7bn turned over in 2021. In the same year, the retailer registered an estimated 74.7mn active shoppers – 13.7mn from within the US – with traffic growing 85% between 2021 and 2022.
Shein was downloaded 200mn times in 2022, making it the most downloaded shopping app ever Shein's explosive growth has also spawned a number of imitators, such as Pinduoduo's Temu, which is also targeting Gen Z shoppers.
Additionally, many of the other leading fashion sellers, such as Asos and Zalando, have bolstered their offerings in response to Shein's dominance. Rising air freight and production costs have recently eroded the company's profits, bringing the company down from the lofty reaches of being a $1bn profit company to hitting around $700mn in 2022.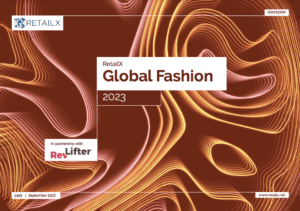 This company profile originally featured in the RetailX Global Fashion 2023 report, which was published this September. Download it in full to discover 60 pages of powerful data-driven insights, that decode consumer behaviour and fashion shopping preferences.