Apple's ecommerce sales have increased by a whopping 97% in two years, making it the third largest online retailer in the US behind only Amazon and JD.com.
According to analysts at TradingPlatform: "The trend is clearly evident that Apple is benefiting from the global move to e-commerce and away from brick-and-mortar stores. The brand created a great online experience. Something more appealing and gives consumers confidence. Apple's e-Commerce is everything to consumers. It's obvious that Apple put itself in the consumer's shoes; they know what consumers want and how to offer it."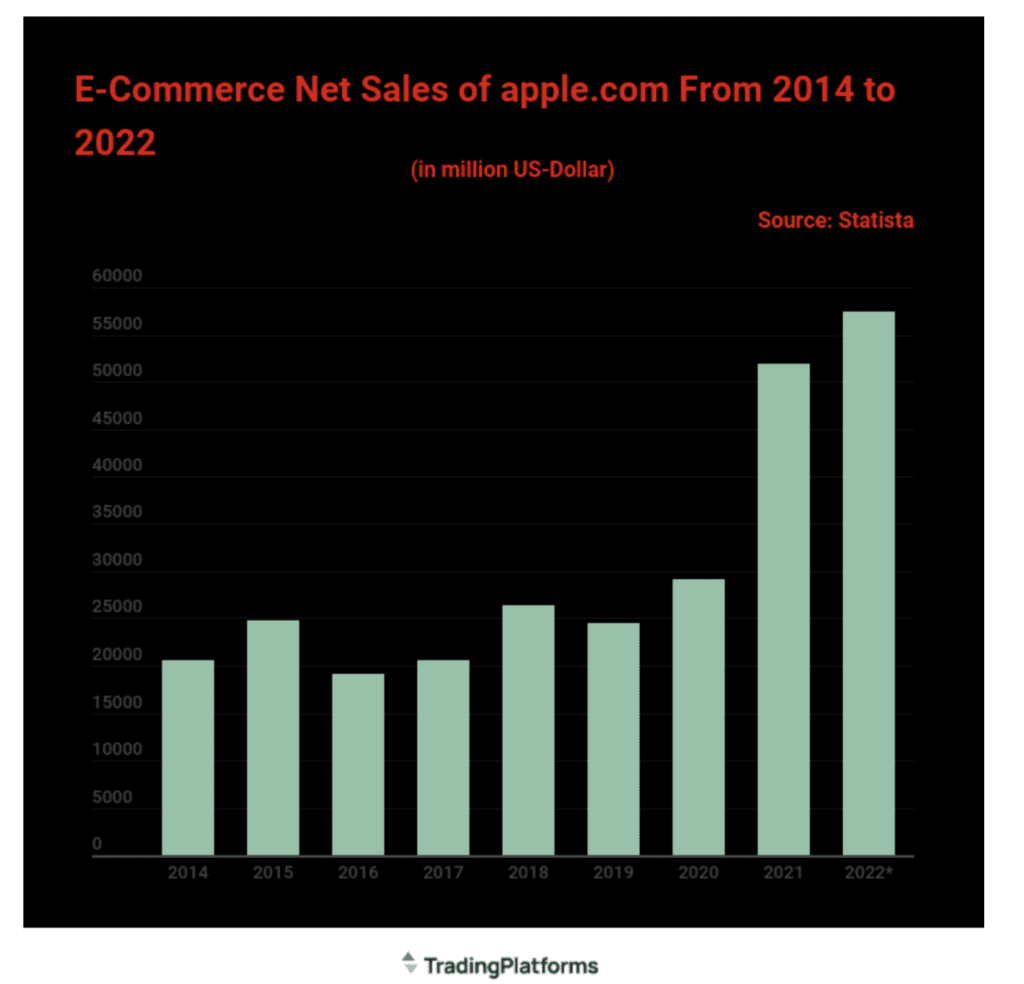 Apple's privacy change and the effects
E-commerce businesses are now paying more for digital advertising due to Apple's privacy change. The change made it more difficult to identify and promote iPhone clients effectively.
Apple introduced App Tracking Transparency (ATT) in April. ATT asks users' permission to be followed by apps in response to growing internet privacy concerns. The percentage of tracked users decreased from 73% at the beginning of 2021 to 32% by June. During this period, most users opted out.
In response to this change, the estimated cost of conversions for ecommerce marketers increased by 200% for tracked users. Besides, the non-tracked users saw a 155% increase throughout the six months.
Along with increased competition for ad spots, these trends will probably persist.
Apple benefits from its creativity
The COVID-19 period was horrible for Apple. The sales went down, and so did the revenue. Yet, the firm came up with measures that strengthened its ecommerce, a changing concept.
The firm shipped products to various regions. And for authentication, it enhanced its security measures. Apple strengthened its Know Your Client systems allowing them to deliver accurate products to accurate addresses. Besides, they had relevant questions for the clients.
The firm also ensured that its ecommerce platform was easy to understand and navigate. The information on the site is simple, and there are a few steps. The concept is critical in seeing clients get services faster.
To strengthen ecommerce, the company is leveraging Apple Cards. They offered the card without charges. Furthermore, they don't have a foreign transaction fee. Apple's online store has been growing rapidly, thanks to the company's focus on providing a great customer experience. In addition, Apple's products are highly coveted, and its brand is extremely strong. As a result, Apple is well-positioned to continue benefiting from the growth of ecommerce.