As part of the recently published RetailX Sustainability 2023 report Preeti Srivastav, group sustainability director, Asahi Europe and International, shares learnings from integrating brand sustainability and marketing plans.
The international arm of Japanese drinks company Asahi aims to be carbon neutral within its 19 breweries by 2030 while working with partners to cut its carbon footprint across supply chains by 30% by the same year.
The company also wants to share its sustainability achievements with consumers along the way. The first step to doing this is to understand which aspects of ESG consumers care about, why and to what extent. Having reached this stage, Asahi then had to identify how its sustainability journey should be shared and what impact it could have on sales.
As Srivastav explains, studies have found that generic claims on product packaging, such as green or eco, can result in a 2% growth in sales. Specific claims like 100% recyclable packaging could push up sales 4%. If a brand can be more ambitious and credible in its claims, such as the product being carbon-neutral, sales increase even further, such is consumer demand for environmentally friendly products.
The challenge
As a beer brand, Asahi's job is to bring people together, but climate science can be "very heavy" rather than being "fun and engaging". The challenge for Asahi's marketing team was how to simplify the complexity of climate change without losing any of the power of the overall message.
One of the steps was to breakdown sustainability into building blocks so the individual brands could talk about their journey in different areas, including agriculture, transportation and packaging. "If we wait until the full value chain is climate neutral we'll have nothing to say until 2050," says Srivastav, and that would be a similar case for many retailers.
She also points out that competing companies, such as Asahi, Heineken and Diageo in the drinks sector are all selling similar products while trying to do the same thing in terms of sustainability. They are all working to lower carbon-emitting electricity and water usage as well as reducing overall emissions.
Sustainability planning is something that all businesses have to undertake, but by integrating sustainability and marketing plans it can become a differentiator as well. That's how Asahi's marketing team looks at the issue and how it uses sustainability to connect with consumers.
Lessons to learn
Asahi has learnt a number of lessons in how it uses sustainability in its marketing to consumers:
Don't oversimplify the story,
Consumer engagement goes two ways,
You can't talk about excellence in one area of sustainability while doing badly in others.
One of the lessons the company has learnt is not to oversimplify marketing messages. Consumers shouldn't be taken for granted as they want to know the full story and have access to the information and data evidence behind claims.
Asahi has a target to run on 100% renewable electricity by 2025, so when one of its breweries switched to 100% renewable electricity the marketers added a new symbol to product labels. However, this lead to consumers asking about other parts of the production process and packaging used and Asahi having to share further information.
The company now explains to consumers why and how it is making changes, the reduction in emissions and whether any of the associated costs are being transferred to customers. "This was a really big learning lesson for us," says Srivastav.
Subsequently, engagement on sustainability grew but consumer appetite for the subject increased as well. In a move that resonated with customers, Asahi added a QR code to its Peroni brand of drinks so customers could learn about production and the partners in the supply chain including the farmers who grew the barley. This worked so well for Peroni that other brands in the group started communicating with customers in this way as well. "I think customers want to be part of the ambition and be part of the action," says Srivastav.
Some corporations are lucky to own brands that are by their nature sustainable or have sustainability in their DNA. This doesn't often happen but for Asahi, helping to protect natural habitats and create a national park in Poland, is the obvious route for its Zubr brand which includes an endangered Bison on its logo.
Asahi's remaining brands are having sustainability added to their brand stories and this can come across as "very arrogant," warns Srivastav. She advises brands and retailers to ensure that the ethos and the DNA of the product continue to be reflected in the communication with consumers as well.
Asahi advice
Regardless of brand or product, sustainability marketing needs to be credible, with everything based on data and evidence, certified by a third party with all of the information accessible to anyone who wants to look at it.
Brands also want consumers to be inspired and engaged "and that's where marketing comes into play," says Srivastav.
She advises brands to:
Embrace the story, not the statistics,
Reach the customer's heart, and not just their head,
Use a positive tone,
Keep it close to home.
There is room for creative sustainability stories in the retail industry as Srivastav believes there are a lot of stories from brands around sustainability but there are "very few great stories".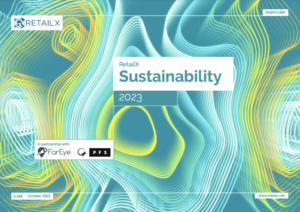 This company profile was authored by Emma Herrod, and appears in the RetailX Sustainability 2023. Download it in full for 40 pages of concise data-driven insight into the world of retail sustainability illustrated throughout with easy-to-read graphs, figures and charts. As well as company profiles on VF Corporation and Just Eat Takewaway.com