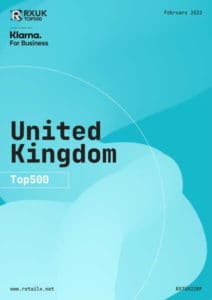 The UK Top500 2022 report closely examines the performance of leading ecommerce and multichannel retailers, along with, increasingly, brands, as customer behaviour continues to fluctuate in the aftermath of multiple Covid-19 lockdowns.
Digital Editor, Scarlette Isaac, looks at the main highlights of the report, , published in association with Klarna, including which savvy sellers have made it to the Elite of the Top500 and how. To read the full report, click here.
Elite and Leading retailers offer customers a market-leading shopping experience
The retailers classed Elite and Leading in the RetailX UK Top500 2022 stand out for giving customers the flexible and convenient shopping journeys that more people than ever now expect, almost two years after the first pandemic lockdowns sent many shoppers online for the first time. All of the 2022 Elite are now multichannel retailers, reflecting the advantages that stores give retailers in this listing, whether through brand awareness or by enabling them to support multichannel fulfilment services.
This year's Elite are retailers who were all able to trade close to normally through the pandemic, when rising levels of demand for online shopping led them to expand their delivery capacity and services. This has given them an advantage at a time when retailers from categories that were deemed non-essential during numerous pandemic lockdowns have downgraded previous delivery promises that relied on having stores open to offer multichannel services such as collection and in-store returns. Fashion and value retailers are among the mostly multichannel businesses that appear in the Leading group of retailers.
Elite retailers
Amazon retains its position in the Elite of the Top500 for the eighth consecutive year, while Argos, Asda, Boots and Tesco continue to be ranked and are joined by Sainsbury's, last ranked Elite in the Top500 of 2019. As we also saw last year, Elite retailers are those that moved quickly to expand their delivery capacities during and after pandemic lockdowns, ensuring that they could provide market-leading services to those who wanted to buy everyday essentials from home.
Four of the six retailers in the group are either grocers or sell groceries for fast delivery. A fifth – Boots – sells essential and over-the-counter medicines along with health and beauty products. In recent years, it has expanded its fast delivery and collection services. Last August, it launched on Deliveroo as a trial – offering delivery of 400 products in as little as 20 minutes. It currently offers free standard delivery for orders over £25 on its website and next day delivery for £4.95.
Argos, while a general retailer, already had a large and growing presence in supermarkets as part of the Sainsbury's retail group. General retailer Amazon already offered market-leading fulfilment options that it expanded quickly during and after lockdowns, at first through a focus on essential deliveries including groceries.
In alignment with the rest of the Elite retailers, we are also seeing Amazon reap the benefits of multichannel, having opened ten Amazon Fresh checkout-free stores around London in 2021. This is in addition to an Amazon 4-Star shop at Bluewater shopping centre. In all, the UK Top500 2022 includes 452 multichannel retailers, alongside 48 pureplay retailers, brands, of whom some are marketplaces. That's up from 422 with stores a year ago, and 78 without. This 30-retailer change appears to have come about as pureplay brands and retailers have opened shops, as well as multichannel retailers winning places in the index at the expense of pureplays.
It's notable that there are no fashion retailers in the Elite, as was the case in previous years. This is likely to be because clothing retailers were hampered by having to close during lockdowns and have yet to fully rebuild their services.
Leading retailers
Half of the 18 retailers and brands now classed as Leading are listed in this group for the first time. Most of the group are multichannel retailers, with Farfetch, Lookfantastic and Marisota the only pureplays. As a marketplace, however, Farfetch gives an online presence to brands and retailers that have stores or independent boutiques and thus can offer the full range of multichannel services. Lookfantastic and Marisota appear in the Leading group for the first time, thanks to highly competitive fulfilment promises, as do multichannel newcomers Yours Clothing, Shoe Zone, Robert Dyas, The Entertainer, Ellis Brigham, Mountain Sports, Apple and Aldi. It's a disparate group in which a significant number – including Aldi, Yours Clothing, Marisota and Shoe Zone – are retailers known for their affordability. Their position as Leading retailers points to the growing maturity of the UK market following the shift online of recent years. Today, it is not only worthwhile for retailers selling less costly goods to invest in digital and multichannel sales models. This group of retailers now competes effectively in the higher ranks of the Top500.
The Leading group also includes some brands that mostly sell their own goods direct to customers. Apple leads the way in a charge that has seen brands overtake retailers in the Index as a whole to make up half of all those listed in the Top500 of 2022. Yet brands are mostly represented at lower levels of the Index and are moving up thanks to an approach that sees them give customers, many now used to shopping online, the type of service that they now demand.
Information included in this article can be found in the full UK Top500 2022 report. To discover more about how the UK Top500 have ranked across our six performance dimensions, download the full report here.