InternetRetailing sits down with Lounge Underwear's CEO Daniel Marsden to discuss the lingerie brands's journey to becoming an omnichannel retailer with the launch of its first bricks-and-mortar site, navigating marketing in a changing socioeconomic landscape and future plans.
On post-pandemic shopping trends
Thanks to the store closures, social distancing and lockdowns due to the Covid-19 pandemic, online shopping experienced a boom.
However, according to Marsden, in a post-Covid world, he expected customers to continue shopping online more than he witnessed.
"There's no doubt that over the past 12 months, there has been a new surge in people wanting to shop in real life again and the excitement of a day out shopping," he says.
However, he claims there's no doubt that online shopping and ecommerce will "continue to grow" as well as stressing the necessity for the high street, but one "that is modern and provides an experience".
The CEO of the company believes that most of the good players in the space are not moving away from retail.
"There's a lot of brands that have far too many stores and are rightly cutting back but from what I'm seeing, most of the pure ecommerce players are moving to the IRL space and see the need to be in that space as well as online."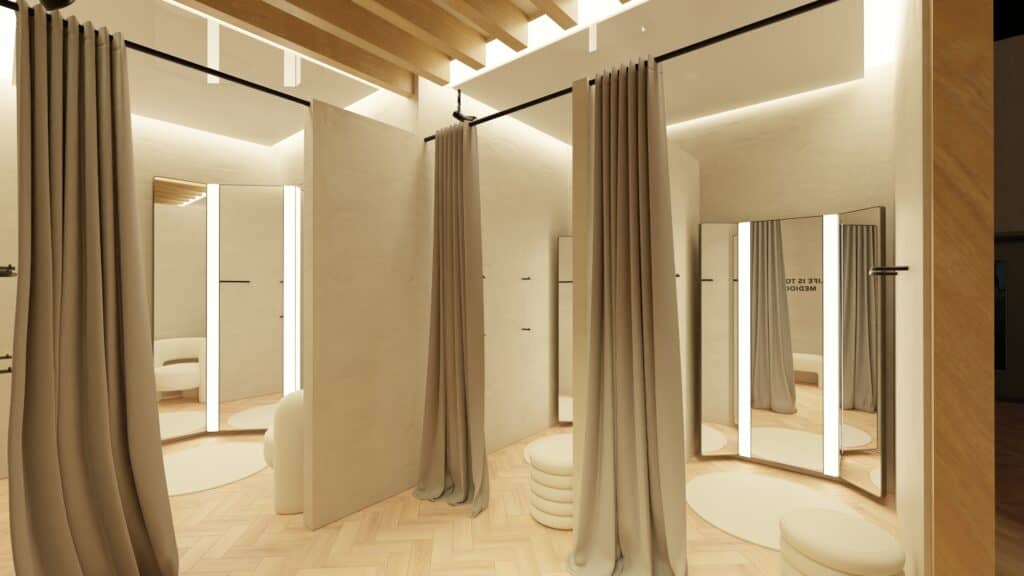 On in-store expansion
Last month, the lingerie brand unveiled plans to launch its first bricks-and-mortar store in Westfield White City, following the success of its pop-up shops in London, Manchester, Birmingham and Berlin.
The move marks Lounge's journey into becoming an omnichannel retailer, which Marsden claims is "massively important" to the brand.
"For a company within our sector it's even more important due to the nature of our product," he says.
"Not only do customers want to touch and feel our product but there's a need to try on styles as every collection our in-house design team creates are so unique. It's important to our customers to test out different sizes, fits, styles and shapes."
As a result, the new store aims to rewrite the stereotypes when it comes to shopping for lingerie and will stock an extensive size range of styles across the categories of underwear, intimates, apparel, sleep and swim in sizes up to 40G/3XL.
The White City store is part of the company's ambitious expansion plan which includes the opening of eight stores in the next 12 months, however, Marsden dismisses the idea of opening a flagship store just yet.
He notes: "In my mind, we will inevitably have flagships around the world in major cities. At the moment our focus is national coverage so as many people can have a touch point with Lounge from all over the UK."
On purposeful marketing and sustainability
In a time of economic challenges, the role of marketing becomes even more pronounced, resulting in it being "one of the biggest pillars of Lounge," the Sunday Times 35 under 35 Rich List named CEO claims.
"In every aspect, we always focus on the way it portrays the brand and how it will be received by our customers as that is where all the value within our company is held.
"In a landscape where the cost to acquire a customer is only going up, it's more important than ever to invest in the strength of the brand and what it stands for," Marsden adds.
Another key pillar for the brand is sustainability, according to the founder and CEO.
Whilst the industry has historically overlooked sustainable practices, Marsden is pioneering change.
"We are in a space and industry where previously very little has been invested into sustainable materials like laces and embroideries but we are incredibly proud that we are striving to launch nine out of every 10 new products with some type of sustainable fabric, whether that be recycled yarns or organic cottons.
"We have a long way to go, but I believe we are on the right path," he states.
On future plans
As the business aims to open more stores in the next year, international growth emerges as a prime objective, the founder reveals.
"We are continuing to invest more than ever within the digital world globally but there is a real focus through mainland Europe as we are seeing such strong growth there.
"Moving into the IRL space is going to be super exciting in creating that halo effect for the brand and once we start our rollout through the UK there's no doubt we will continue this into Europe," Marsden concludes.
---
Stay informed:
Our editor carefully curates a daily newsletter filled with up-to-date news, analysis and research, click here to subscribe to the FREE newsletter sent straight to your inbox and why not follow us on Linkedin to receive the latest updates on our research and analysis – UK, Europe and global.