With ChatGPT Enterprise now live and giving businesses faster generation times, greater data analysis capabilities and a range of other business-focussed advantages, just how are retailers using artificial intelligence today to achieve less obvious productivity gains?
Zara: on-trend agility with AI everywhere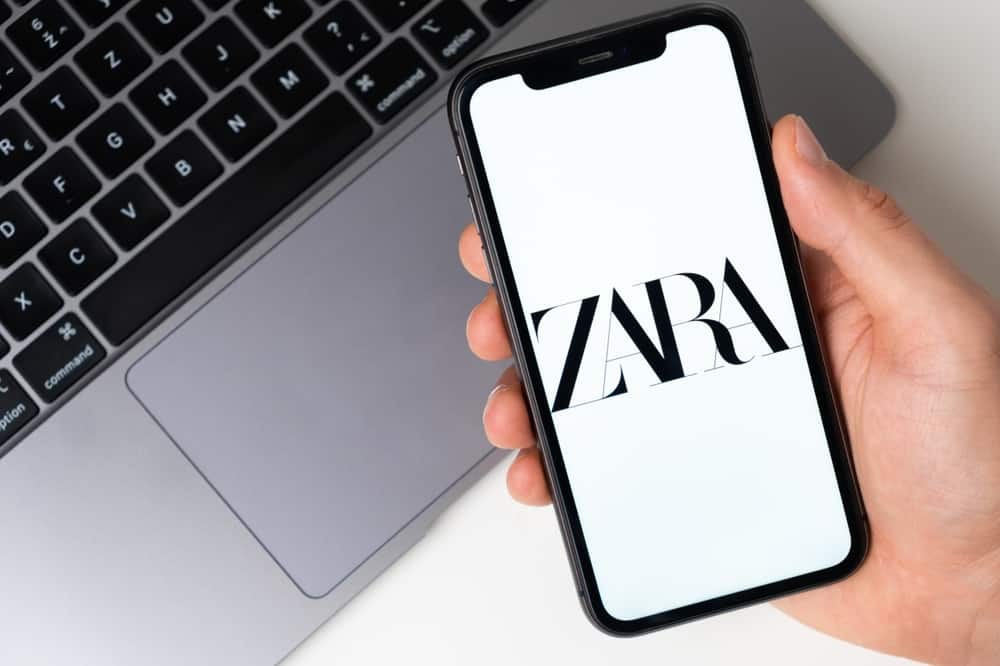 International fashion chain Zara is one of many fashion retailers that are on trend with AI, only unlike those that use it look at how consumers are shopping, Zara has deployed AI throughout its business.
The company hired tech firm Tyco to install microchips in the security tags in all its clothing so that the company can see where any item is before it is sold – from production, to shipping, to display, to on-sale – allowing it to have a super-accurate view of its inventory.
It also uses AI-powered robots to pick and pack items for its click and collect services around the world, speeding up product handling.
The retailer naturally also uses AI to look at customer behaviour, using tech from AI company Jetlore to map consumer behaviour into structured predictive attributes, like size, colour, fit, or style preferences.
So far, so much like all other fashion retailers that use AI, Zara adds a new spin is how it leverages this all to create a much richer viewer of customer habits and stock control to measure how things are selling, where and how.
Whatismore, it then uses this information to rapidly adapt what it is making and selling. This sees the fast fashion company able to develop, create and get new designs to stores in as little as a week – very much faster than the three to six month industry average.
While this is a direct result of the company's long involvement with just-in-time (JIT) production techniques – which it has used since 1990 – this holistic approach to AI has ramped it up considerably. It has also allowed Zara to be almost totally self-contained across the whole process from material manufacture and supply through to completion and distribution.
This has given Zara an agility edge, with styles that aren't selling well pulled and replaced with new designs weekly and fortnightly. This not only keeps the retailer selling what customers want, but also gives customers a reason to visit often.
Together, this approach has also placed Zara in a prime position to create and exploit ecommerce from an early stage and the company now has one of the largest webstores by traffic in the world, sitting just behind Zalando, Shein and H&M.
Sephora: the many faces of AI in skincare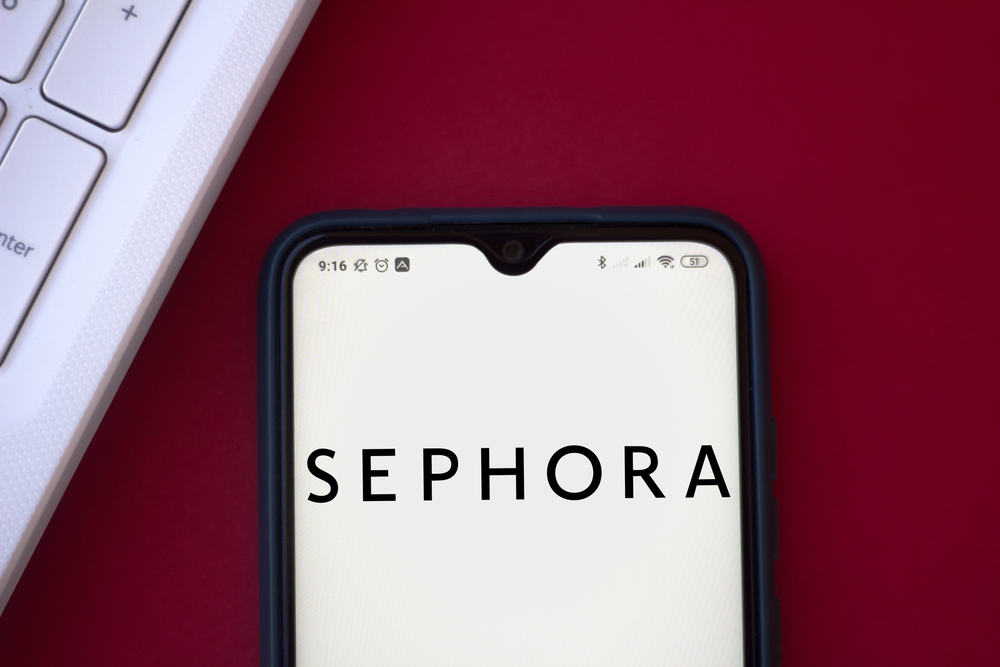 For many retailers and brands, AI is a tool that sits withing several different areas of their business and cosmetics company Sephora is a great example of this 'total AI' approach.
The company's use of augmented reality to allow customers to try on make ups virtually is well documented.
However, sitting behind this – as it does with all AR systems in use in retail – is sophisticated AI that helps recognise the facial features and contours to then allow the system to accurately apply the virtual make-up in a realistic way. Without AI, this virtual try-on technology would not be anywhere near as accurate as it needs to be.
Using Sephora's app, facial recognition allied with AI and machine learning recognises eyes, lips, and cheeks and allows a wide range of its products to be intelligently applied so that they give the right effect across those features for each product. It also offers suggestions and tutorials and can assess the face and create a whole look.
Where Sephora is extending its use of AI is in the realm of using this facial recognition to not only allow more accurate face mapping and virtual make-up rendering, but in offering skin diagnostics to customers.
Here, the sophisticated AI is used to look at the skin in the image the consumer submits to assess what that skin type is and suggest the right kinds of skin care and make up products for that type.
More recently, the brand – something of a fan of AI – has embraced generative AI to create virtual assistants that have proved very successful in Asia.
Initially implemented to handle complaints, these chatbots – which for full disclosure also take cues from real in-store assistants – are handing an array of questions about stock availability and price, opening hours and how to collect orders.
Increasingly, as confident consumers start to ask more about the products themselves, the system is starting to be trained to automatically answer these questions based on what agents themselves add to the system.
Zalando: Intelligently telling you what to wear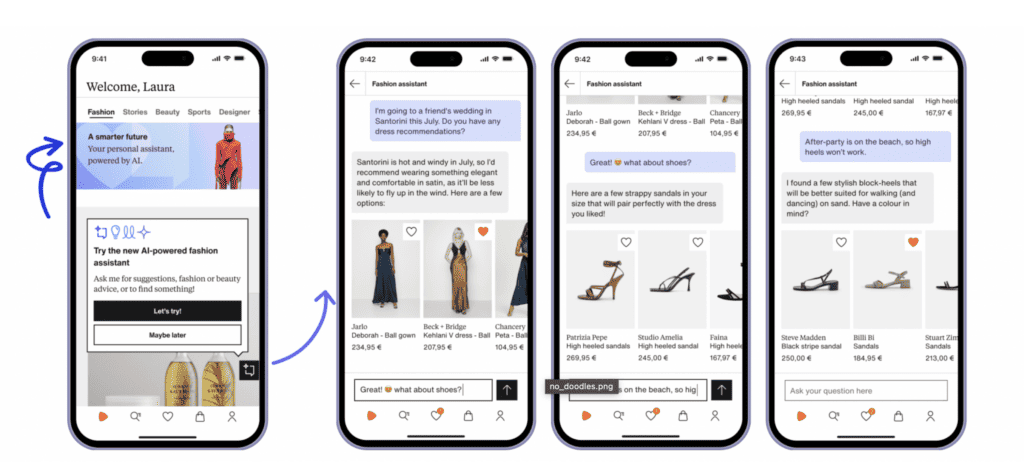 "What should I wear to a wedding in Santorini in October?" A question many of us have asked ourselves and now one that, if you ask Zalando, will provide you with a written answer with examples of things you can buy.
The fashion marketplace which leads the way in European fast-fashion ecommerce has implemented a Open AI ChatGPT-powered virtual assistant that is designed to help shoppers not only navigate the marketplace's site and app, but also to help offer increasingly granular advice on fashion choices, FAQs and more.
The thinking behind the use of generative AI is that Zalando offers such a huge range of items for sale, consumers need some help to narrow down what it is they are looking for and generative AI can allow them to do that using their own terminology and phrases – in short it can be more conversational.
With the wedding in Santorini example, the chatbot will look at the weather in Santorini in October, assess what clothing would work with such weather and, if they have already shopped with Zalando or expressed a preference, pick the brands, sizes and styles that an individual shopper might typically chose from.
The idea is that, as it grows and learns, it will allow customers to have on-going conversations with the site about fashion, offering recommendations, answering questions, helping create outfits and more. The holy grail is to see it add a whole new level of engagement between customer and retailer, making the relationship a conversational one, rather than just transactional. It wants to be your fashion friend.
But we will have to wait and see if this is really the future of ecommerce; the first beta version will be enabled for a selected group of customers by Spring, with support in both English and German, and be made available in Germany, Ireland, the United Kingdom, and Austria.
Amazon: Rethinking how to make reviews more effective
Amazon pioneered product reviews in 1995 and changed the way online sellers sold.
Over the years the retailer has refined and adapted its reviews use and, perhaps inevitably, it has turned to AI to make them even more useful.
However, this can be more of a challenge than you might imagine. Last year alone, 125 million customers contributed nearly 1.5 billion reviews and ratings to Amazon stores—that's 45 reviews every second. That is a lot of information for consumers to take in.
This is where generative AI has come in to play. Amazon is using the tech to write summaries of the key themes seen across reviews for each product to offer a more concise precis of what the reviews are saying. While a potential customer can still read all the reviews individually, the generative summary allows them to get a heads up on whether they want to read on – saving them time and helping hone their choice.
Amazon has already been using the system to agglomerate reviews for clothing based on pulling together those that are from people of the same sizing as the customer, but it now plans to take this wider across more products and even more reviews.
Currently only available to a subset of mobile shoppers in the US across a broad selection of products, these AI-generated review highlights also feature key product insights and allow customers to more easily surface reviews that mention certain product attributes.
For example, a customer looking to understand whether a product is easy to use can easily surface reviews mentioning "ease of use" by tapping on that product attribute under the review highlights.