Trouble lies ahead for the global economy and, if they are to thrive, retailers need to focus on their customers, the latest RetailX Global ecommerce 2023 report has stressed.
Around the world, national economies look fragile. Buffeted by a series of shocks that date back at least to the global economic crisis of 2008-09, there's a sense that, as soon as good news arrives, it's soon followed by bad. As this report goes to press, for instance, the headlines are dominated by the conflict between Israel and the militant group in charge of the Gaza Strip, Hamas.
Against such a backdrop, the executive summary of the International Monetary Fund's October 2023 report, World Economic Outlook: Navigating Global Divergences, could hardly have been blunter. "The global recovery from the Covid-19 pandemic and Russia's invasion of Ukraine remains slow and uneven," it began. "Despite economic resilience earlier this year, with a reopening rebound and progress in reducing inflation from last year's peaks, it is too soon to take comfort. Economic activity still falls short of its pre-pandemic path, especially in emerging market and developing economies, and there are widening divergences among regions."
To highlight a few of the numbers behind this gloomy assessment, global growth is forecast to slow down, from 3.5% in 2022 to 3% in 2023 and 2.9% in 2024. Between 2000 and 2019, global growth averaged 3.8%, a figure expected to be closer to 3.1% in the years ahead. On inflation, there is better news. Although it is predicted to drop to 5.8% in 2024, this is still above national and international targets.
What are we to make of such numbers? One answer is to think of them as framed by the idea, often expressed in the UK, that 'nothing really works'. That this view is prevalent is hardly surprising. The UK has, after all been living through a fiscal squeeze and austerity for more than a decade and, in enacting a hard Brexit, seemingly decided to see how one of American satirist HL Mencken's most cynical quips – "Democracy is the theory that the common people know what they want and deserve to get it good and hard" – might work in practice.
Something of the current malaise in the UK was neatly captured by prime minister Rishi Sunak's cancellation of the HS2 high-speed rail link to Manchester. Whatever the arguments for and against a project designed in great part to promote growth in Northern England – and the costs have long seemed to be out of control, the business case never convincingly made – this party conference speech announcement abruptly ended, in the words of former prime minister David Cameron, "15 years of cross-party consensus, sustained over six administrations".
Despite this, Sunak, leading a party that has been in power for 13 years and making a speech pitched towards the next general election, used the cancellation to portray himself as a change candidate "making long-term decisions" and "prepared to be radical in the face of challenges". If nothing else, you had to admire the chutzpah.
All this is mentioned because there's a sense that, while the UK is admittedly something of an outlier among developed nations in its capacity for self-flagellation, a sense of disconnection between those in positions of power and influence and wider populations has become a feature of 21st century life. Look past the horrors that have lately been visited upon the world by the crash, the idea that climate change is starting to bite, conflict and Covid-19 – and we in no way wish to downplay these – there's a sense that the global order has been stress-tested and all too often found wanting.
For business leaders doing their best in difficult circumstances, this is problematic. In The General Theory Of Employment, Interest And Money (1936), JM Keynes famously talked of the "animal spirits" that drive us and how this affects consumer confidence and markets. Right now, our collective animal spirits could perhaps best be described as in a pensive mood.
For good reasons. When, for example, China's second-largest property company, the Evergrande Group, is facing a bankruptcy that, it's feared, may have a domino effect within the wider Chinese – and global – economy, we have rational reasons to be worried. In this case, the fears are only heightened by a sense that the Chinese authorities, authoritarian, prone to abrupt shifts in approach and notoriously difficult to read, are key players here in ways we don't quite understand.
Until recently, it is remarkable just how little the digital sector, for all we grumbled about operating systems and software, seemed to get caught up in this sense that nothing much works as it should. This is perhaps not surprising. Digital technologies have made life easier in the most mundane ways. Can't buy an item locally? Order it online. Bored in the doctor's waiting room? Ignore the pile of dog-eared magazines and read today's newspaper on your smartphone. Need to have an urgent meeting? Set up an online call.
As we argued in last year's report, the kinds of services provided by traditionally high-growth technology companies are increasingly akin to utilities. Without entirely revisiting the argument we made then, we suggested an era "of moving more slowly and mending things lies" may lie ahead.
We still think this and we're still not convinced that many in the digital tech sector, accustomed to high levels of growth and offering consumers services customers didn't even know they needed, have quite grasped what this may mean. In January, the science fiction novelist, digital activist and futurist Cory Doctorow published an article devoted to what he called "enshittification". The opening paragraph reads: "Here is how platforms die: first, they are good to their users; then they abuse their users to make things better for their business customers; finally, they abuse those business customers to claw back all the value for themselves. Then, they die."
In Doctorow's reading, the cycle begins with platforms needing to encourage consumers to sign up. But once people have signed up, putting pressure on competitors and sometimes knocking these businesses out of the market altogether, platforms begin to increase their margins at the expense of customers, partners and contractors. Consumers who want to look elsewhere find that other options have dwindled.
The irony is that, ultimately, this may not even help the platforms. Why? One reason is because the platforms have fallen into the trap of looking at what they do from the perspective of the business, something you can arguably say of certain marketplaces. Eventually, consumers will grow tired when platforms do not perform as hoped, and will look elsewhere for goods and services. Then the platforms begin to die. Doctorow takes some solace in this. "That's fine, actually. We don't need eternal rulers of the internet," he says, adding, "Our policy focus should be on minimising the cost to users when these firms reach their expiry date."
The good news in all of this for retailers is that, while they are increasingly digitally driven, retailers are not digital businesses per se. Rather, they have always been about keeping the promises made to consumers. While good customer service is not enough in itself, poor customer service can, often quickly, put businesses on the road to failure.
There are, of course, caveats here. Some companies get away with less-than-optimal customer service because they compete so fiercely on price, but even these companies are usually aware of where their customers' pain points lie. They have to stay in business. Sure, Lidl offers less choice than many of its competitors but its checkouts are fast. Or, to take an example from outside the retail sector, Ryanair offers many of the cheapest flights on the market while also having a reputation for being as punctual and reliable as its competitors.
To return to the macroeconomic picture, the numbers suggest the years ahead will be tough for all kinds of businesses but the huge advantage the best retailers have lies in their knowledge of their customers. While there's not much that retailers can do about global politics and economic conditions, there is really no reason for a customer to come away from a retail interaction with the vague sense they have just encountered yet another instance of things not quite working as they should.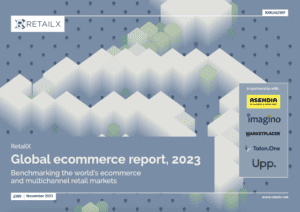 This feature was authored by Jonathan Wright and appears in the RetailX Global ecommerce 2023 report. One of RetailX's flagship publications, it is aimed both at those already trading in different markets and at those considering expanding into regional markets where the challenge is to compete with established businesses. Download it in full here.