Global travel has recovered most of its value after the disruptions of the past few years, with the recently published RetailX UK Travel 2023 report highlighting that profits are up and travel is on the agenda again for UK consumers.
A pandemic, political tension and the cost of living have all had, and are continuing to have, an impact but annual revenue in the UK was up to £27bn in 2022 from £13.1bn in 2021, though still considerably lower than Japan, Germany and China.
The market size of the UK online travel agency industry reached £1bn in January 2023, with 714 businesses operating, employing roughly 3,323 people.
Activity is up. Overseas residents made 7.7mn visits to the UK in the first quarter of 2023 – much higher than the 3.7mn visits made in the same quarter of 2022.
Profits are up too. Ryanair recently reported an after-tax profit of €663mn for the three months to the end of June, almost four times higher than in the previous year and IAG (the parent company of British Airways) recorded a record operating profit of £1.1bn January-June 2023, rebounding from a £38mn loss during the same period in the previous year.
Low-cost airline group easyJet has announced new routes from Birmingham airport and Jet2 has revealed a new base at Liverpool's John Lennon airport for 2024.
Personal budgets continue to be tight but people made grand travel plans during the pandemic and have had the time to think about what they really want from a trip. More recently, weather issues in Europe have forced UK travellers to reconsider holidaying at home. They're also looking for more sustainable options.
Brexit's legacy
Another constant disruptor of the travel sector has been Brexit. In a European RetailX poll, most travel, hospitality and services organisations expected the UK's departure from the EU to have little effect on business, although there were fears it could hit profits and revenue.
In fact, Brexit has made travelling from Europe to the UK a challenge, not to mention making a serious impact on staffing and mobility. Many travel and hospitality SMEs are struggling with Visa issues and Joss Croft, head of UKinbound, said recently that the sector has suffered "massive damage" as a result.
The European Travel Information and Authorisation System (ETIAS) is also due to come into force in 2024. This will require the 1.4bn travellers from more than 60 visa-exempt countries to have authorisation to enter most European countries. ETIAS will cost €7 and last three years or until the end of the validity of the travel document. While this doesn't affect visitors to the UK, it could have an impact on UK travel businesses.
According to ABTA, the UK's outbound travel industry supports more than 840,000 jobs in the UK and contributes more than £49bm a year in GVA to the economy.
A sustainable alternative
Sustainability is an increasingly important factor for travellers, particularly the younger generations. Growing awareness of the human impact on the planet means travel operators and retailers are starting to consider how offering these options will affect the bottom line.
Research from SAP Concur finds nearly 12% of travellers want to take more direct step of purchasing carbon offsets for their business travel this year and 18% would decline a business trip if they had concerns about the environmental impact of the travel. Companies are taking notice. Booking. com recently announced it was joining forces with BeCause, an enterprise software company to help inform travellers with sustainable travel options, via a bespoke API platform.
Travel apps
The travel app market was forecast to continuously increase between 2023 and 2027 by an estimated $US 730mn. In the UK, Trainline has the largest share (10%), followed by Uber and Booking.com (8%). Uber recently announced its plans to become a travel "super app", launching flight bookings to its UK app, so it will be interesting to see what the brand's plans mean for the travel app and online booking market.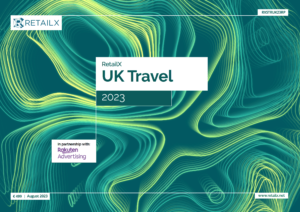 This feature was authored by Hazel Davis, and originally appeared in the RetailX UK Travel 2023 report. Download it in full to discover:
In-depth market overview including consumer and online behaviour segment
10 company profiles including annual growth of UK web traffic:- Airbnb, Skyscanner, Premier Inn and more