David Quass, senior director, sustainability (EMEA), VF Corporation spoke to Emma Herrod for the brand new RetailX Sustainability 2023 report on transitioning from testing and learning to scaling up initiatives with new materials.
VF Corporation is the umbrella for a number of lifestyle apparel, footwear and accessories brands including Timberland, Vans and The North Face. It first disclosed its corporate footprint via CDP in 2013 and set science-based targets in 2017. These were approved in 2019.
One third of the corporation's overall emissions come from the raw materials used in products from VF brands, so the company has aspirations for the top nine materials it uses to originate from regenerative, responsibly sourced, renewable or recycled sources by 2030.
The company and individual brands are looking at material usage and working with companies innovating with new materials that have less impact on the environment than the materials currently used. There is lots of innovation happening in areas such as vertical agriculture, post-consumer recycling, making fibres from carbon capture and alternative forms of leather from waste fruit or mycelium, explains David Quass, senior director, sustainability (EMEA), VF Corp. Unlocking new developments at this tier 5 level "is critical for VF, the VF brands and the wider industry," he says.
However, the supply chain for some materials is at a more mature level than for others which are still at a developmental stage. "The art comes into how to integrate the innovation or options to transform the current material base into the existing supply chain, at scale, which for a corporate like VF is critical as we produce millions of pieces per year throughout the globe," says Quass. VF approaches the materials transition in three ways: straightforward swaps; areas that it deems critical for low carbon production; new areas that require further innovation and investment.
Straightforward wins
The straightforward wins are materials such as recycled polyester which is available at scale and is cost competitive. VF has a target that 50% of the polyester used in its products will come from recycled materials by 2025. The North Face is already at a level where more than 90% is recycled.
"It is critical to scale what is available and mixed recyclables such as polyester can be responsibly sourced," says Quass. For some materials, it may mean sourcing from different parts of the world where enhanced traceability is possible such as sourcing organic cotton from Australia.
Low carbon production
Where the company can see the benefits of moving to new materials or ways of working that are not yet available at scale, but are on the road to being fully scoped, these materials can be incorporated into specific products rather than an entire range or across a brand.
Regenerative agriculture is one such area providing lower levels of material. VF is working with farmers to improve how raw materials such as leather, rubber and sugar cane are grown and how regenerative processes can improve soil health, the biome or carbon sequestration, while also increasing yields.
Over the last year, it has launched a number of initiatives across brands to advance regenerative agriculture for the industry and this is reflected in a number of products. For example, The North Face has products that are made with regenerative cotton and leather and Timberland has products that incorporate regenerative leather and rubber. A number of brands share these regenerative supply chains, including the VF footwear brand Vans.
These materials are all on different timelines for when they will be available at scale and at a cost that is competitive with existing alternatives. There are other challenges to overcome as well, explains Quass, around how to qualify the benefits, how to set outcome frameworks and how to measure and account for this as well.
"There is still work to be done," he says, and it needs a collaborative approach "not just across industry, but sectors – plural. If you look at some of the principles of regenerative agriculture such as intercropping where you grow other species such as coffee in the midst of rubber plantations there is a need for another sector to become an offtaker for that supply."
Likewise, leather is three per cent of the economic value of a cow, so if the cow is being ranched regeneratively then the leather is just a very small element. "It is very relevant to us and to our industry and brands but the larger economic value needs to be tapped into by other sectors such as the food industry, fashion and beauty. Therefore, it's critical for sectors to come together in spaces where they share the same raw materials."
Innovation and investment
There is a further segment of innovations in materials that is not yet as integrated into retail supply chains. Innovations, such as mycelium-grown leather and fibres developed from carbon captured from industrial chimneys, require further research, process development and investment in order for them to become available at scale.
"It's very important for us to observe, to stay close and to constantly evaluate where those value propositions are at," says Quass. These new materials have to be able to perform in order to be adopted as a main material for products so they have to be assessed against performance criteria, such as wearability in the rain, as well as against what consumers expect when they buy into a specific brand. For example, The North Face has utilised Spinnova viscose and fibres produced from carbon capture will appear in some VF brands in coming months.
The transition to new materials will happen and in time for retailers' sustainability targets believes Quass but it will come about through a number of tipping points rather than a linear process. "There is still lots that has to happen," he admits, considering that just one per cent of cotton produced is organic. The tracking technologies, certifications and legislation all have to come together to support future availability and adoption.
One such tipping point will be the introduction of EU textile waste legislation which comes into effect from January 2025. It is expected that around seven million tonnes of textile will be collected annually across the member states and this will require individual materials within products to be identified and recyclable. "Today, brands need to actively hunt for materials so it's not effortless yet," says Quass.
The next stage is explaining to customers why one material is better than another and why it is being incorporated into products.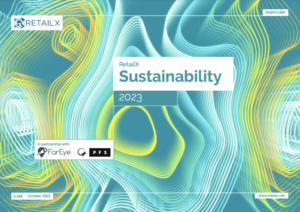 This feature originally appeared in the RetailX Sustainability 2023 report. Download it in full to discover why the RetailX Global Elite 250 are sharing their sustainability journeys with customers, and how customers are shopping with sustainability in mind.
Also pre-register to view the Ecommerce World Review webinar which sees an expert panel discuss the report.