Ikea's 23rd UK store will open in Brighton's main shopping centre, and marks the latest phase of the retailer's ongoing omni-channel transformation.
The Churchill Square store, on the former Debenhams site, will offer a wide array of the brand's most loved products: approximately 6,000 on display with 3,000 available for immediate purchase. The full range will be available for delivery via zero-emission vehicles.
Furthermore, in-store planning services will support customers' kitchen, bedroom and bathroom planning needs, with a Swedish Deli also forming a part of the two-storey store; ensuring that the retailer's iconic meatballs (and plant-based equivalent) will also be available.
Peter Jelkeby, country retail manager and chief sustainability officer at Ikea UK & Ireland, said: "We're delighted to continue expanding and investing throughout the UK to make it easier and more sustainable for people to shop at Ikea. Sussex has long been an area of interest to us, and we really look forward to bringing Ikea closer to where our customers live, work and socialise and becoming a part of this vibrant community."
The latest city store is part of Ikea's wider multi-channel strategy. This is supported by investments in new services, the development of existing stores and new fulfilment and delivery capabilities; making it easier and more sustainable to shop than ever before.
This investment was featured in the recently published RetailX Top1000 Europe 2023 report. In an exclusive interview Anca Iordanescu, vice president of engineering at Ikea, explained that the homeware giant must give its customers the ability to buy in whatever way that they want to.
"We need to look with different eyes and meet how they want to shop. It's not how we tell them to shop," said Iordanescu. "We try to come back and say, okay… the customer is coming from home, preparing their list and planning. Thinking what is driving them to come – do they want to feel, to touch, to get inspiration, to get community – or just the feeling of being in a store?"
In the UK, for example, sales are about 50% online and 50% instore. In the light of that, Ikea is rethinking the way it sells both through stores and online. The emphasis is now on bringing digital into stores that are often smaller, in representing a real shift from its long-standing approach of selling through warehouses.
Ikea opened its first UK small-format store in Hammersmith, London, in early 2022. It has a further small-format store planned for Oxford Street that is expected to open during this autumn. Similarly to the Hammersmith store, the Oxford Street will face the challenge of showing a wide range in a smaller space.
The thinking, says Iordanescu, is about: "How can we show our range in a clever way so that people can learn from our store? Because no one will go and buy a sofa from Oxford Street. So we're looking more on inspiring them and connecting people."
Sustainability is also set to be an important part of how the new store will work, says Iordanescu. "Ikea is very much focused on sustainability and our focus is also on looking how to have green stores – from a digital perspective."
She adds: "I think if we are wise, as humanity, we will use technology towards sustainability."
As yet, there is little detail on how the new store will incorporate environmentally friendly design or use digital technology in practice. In its Hammersmith store, however, Ikea shows the full range through screens, offering instore planning services, as well as the ability to order for home delivery or collection closer to home.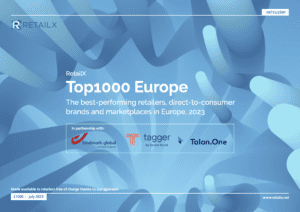 Read the full interview in the RetailX Top1000 Europe 2023 report. Our eighth annual Top1000 Europe report comes at a time when leading retailers are navigating a challenging economic period in which shoppers are cutting back on spending in the light of rising energy and grocery bills. The leaders in this Top1000 report are doing so by innovating and improving the service that they offer and within the report we explore the strategic decisions they make and the tools they use to do so.