In the digital age, influencer marketing has become a dominant force in the retail industry with more brands including Boohoo, PrettyLittleThing and In The Style all naming social media influencers as brand ambassadors, designers and in some cases creative directors.
Take Perrie Sian for example, the social media influencer who has been named In The Style's first creative director.
In her new role, Sian will head up all creative aspects of the fast fashion retailer, including driving future growth for Fits and overseeing In The Style's brand campaigns.
---
Subscribe to Internet Retailing for free:
Click here to sign up for our daily newsletter
---
Commenting on the appointment, In The Style founder and CEO Adam Frisby said: "I am delighted to announce Perrie as the new creative director for In The Style.
"Since Perrie began working with the brand two years ago, her work ethic and drive have been incredible and her eye for trends has cemented the phenomenal demand for Perrie's collections, selling out over 24 collections since she came on board in July 2021."
The move follows the success of Love Island star Molly-Mae Hauge becoming the creative director of fast fashion retailer PrettyLittleThing in 2021 in a rumoured seven-figure deal.
However, earlier this year Hauge resigned from her role, which begs the question are influencers still as influential as they once were?
According to the 2023 RetailX Beauty & Cosmetics report, social media has a greater influence on cosmetics purchasers compared to other groups of online shoppers.
Consumers who buy beauty and cosmetics online claimed that an influencer's recommendation is likely to lead them to buy a product, with 22% of cosmetics e-shoppers revealing they are "very likely" to purchase after seeing a product recommended by an influencer.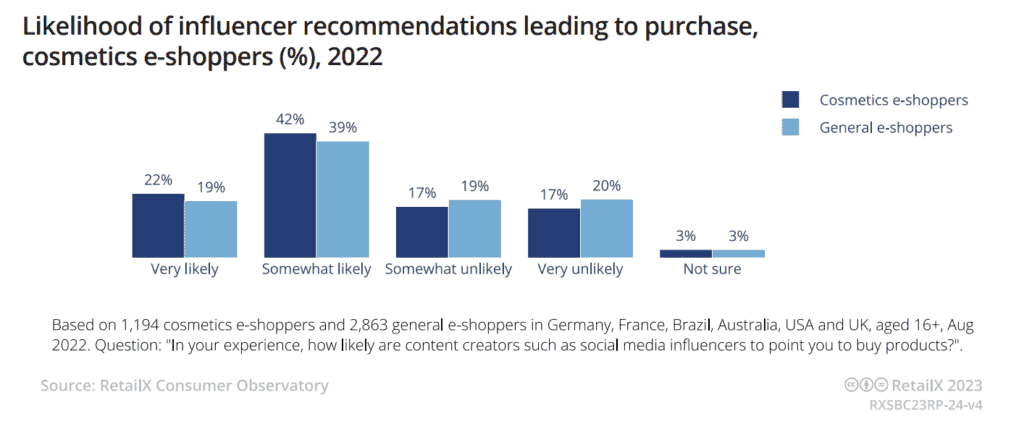 Some 42% added that they were "somewhat likely" to purchase an item on the back of an influencer's recommendation.
Influencers and content creators alike also play a major part in marketing campaigns, with consumers looking to them for expertise and recommendations, the report added.
"Today's retail landscape is a vibrant, interlinked web, pulsing with change and influencers are the spark," Chloe Cox, head of social at Wunderman Thompson Commerce & Technology told InternetRetailing.
"They don't just connect with modern consumers; they create personalised experiences laced with authenticity as 16% of global consumers said influencers impact their shopping decisions. Where traditional marketing fails to resonate, influencers hit the mark, breathing life into brand-consumer dialogues."
However, according to Cox, customers "no longer passively absorb content; they demand authenticity, pushing influencers to be vocal about injustices and social issues".
"That said, the nature of influence is evolving. The focus is shifting from high-profile influencers to 'micro-influencers' and 'nano-influencers' who deliver higher engagement rates and foster close-knit communities.
"Influencers that are socially conscious and 'real' are an advantage here, as shoppers are more likely to trust them and by extension, the brands they're attached to. Brands fostering long-term relationships with influencers are seen through the same lens; the influencer's credibility becomes their credibility."
Cox adds that influencer marketing still commands a seat at the marketing table, "but choosing the right partner is key".
"Brands need to define their own message and understand how influencers' voices can shape its reception. With clarity on these factors, it becomes a lot easier to figure out who the best person to collaborate with is," she concludes.
---
Click here to view: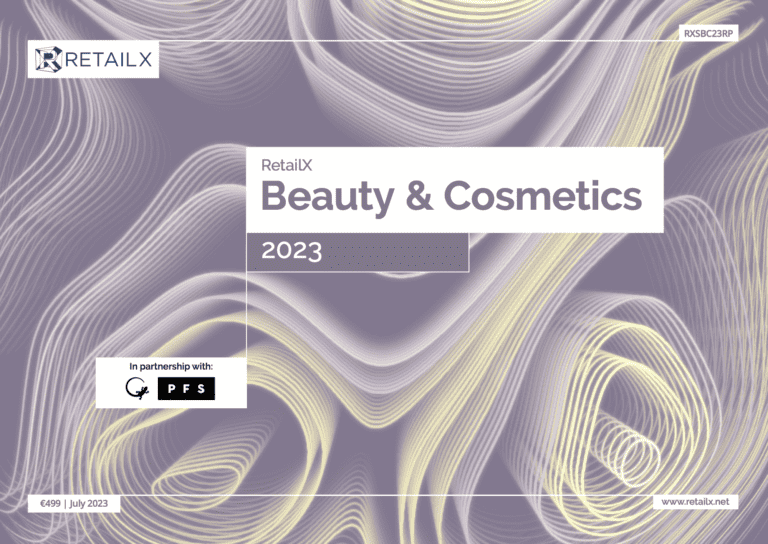 Download the 2023 RetailX Beauty & Cosmetics report, which examines the sector, the extent to which consumers are shopping online around the world, developments over the last year and the trends that will continue to drive ecommerce forward.