Europeans are not only becoming increasingly avid users of ecommerce, they are also increasing their overall spend, consumer research conducted across Europe by RetailX has found.
Data showed that 87% of them spend between €12 and €600 a month online, with 49% spending up to €120 each month via ecommerce.
Shoppers who spend smaller amounts online are driven primarily by fast delivery and convenience. Many are also encouraged online by more competitive pricing. These are not the customers of primary interest to the luxury sector.
Rather, it is the 11% who spend upwards of €500 each month that are the most significant to luxury brands. These consumers are the natural target of those selling high-value goods.
---
Stay informed:
Our editor carefully curates a daily newsletter filled with up-to-date news, analysis and research, click here to subscribe to the FREE newsletter sent straight to your inbox and why not follow us on LinkedIn to receive the latest updates on our research and analysis?
---
While this cohort may not be of particular importance to mass-market retailers, they are crucial to luxury retailers, indicative as they are of how a growing number of shoppers for luxury goods are willing to purchase online.
It is also worth considering the other 12% who spend between €300 and €600. These customers represent the target audience for 'affordable luxury' brands and retailers looking to offer the quality of luxury but at a more affordable price point.
This not only opens up this 12% mid-tier spending segment to luxury brands, but also enables them to prime younger shoppers for more lucrative luxury spending as these consumers grow older (and potentially richer).
Drivers of online luxury
Despite luxury retail being predicated on high-value goods, price is increasingly important to Europe's luxury shoppers.
Consumer research by RetailX shows that more than 55.8% see discounts and reduced price as very important when looking to shop luxury online. When added to those who see it as somewhat important, this rises to more than 83% – the vast majority of online luxury shoppers.
While the practical appeal of ecommerce – speedy delivery, availability, easy returns and reliability – applies equally to luxury shopping, this focus on lower prices and discounts suggests that Europe's luxury shoppers are either turning to ecommerce as a means of finding luxury items for less, or that the shift to online-first luxury is itself driving prices down.
Both seem to be true. Younger, online-first shoppers are looking to luxury as an alternative to fast fashion and are prepared to spend more on a single, higher quality piece. Since they are on a budget , they are also looking to maximise their luxury spend.
Other demographics, too, are looking to shop luxury but at a bargain price, often opting to buy last season's luxury at a discount rather than the newest fashion. The role of online in luxury ably facilitates this and online sites such as Secret Sales have emerged to service this need.
The move towards more affordable luxury has driven growth additional in second-hand luxury, again being serviced by a range of sites such as Vinted and Vestiaire Collective. This is reflected in the level of spending the RetailX survey uncovered.
Typical expense per luxury item bought online in Europe lies in the €100 to €500 range, with 45% sitting in this spending bracket. Further analysis shows that 83% lie in the less than €500 range, showing that online luxury spending is no longer just about very high value items.
That said, 12% of shoppers do spend between €500 and €1,000 per item when shopping luxury, showing that there is still a dedicated set of luxury shoppers who are shopping at the high end and generating more than enough revenue to sustain established brands and retailers.
Luxury segment spend
When it comes to what these shoppers are buying, the bulk of European luxury ecommerce shoppers are shopping for fashion apparel and accessories, with 62% of them buying one or multiple items in the 2022. Cosmetics and beauty is bought by 51%, with flowers and gifts attracting 52%.
While luxury cosmetics and beauty have always been a strong segment of both the luxury sector and the fashion market, the rise of luxury apparel is further evidence that consumers are looking to luxury and affordable luxury as a replacement for, or even an antidote to, fast fashion.
Younger shoppers are regarding luxury – and its spin-off sector, affordable luxury – as a source of high-quality but also more one-off items that stand apart from the widespread 'high street' look. They are also attracted to the idea of owning something less ephemeral that has built-in sustainability credentials as well as a resale value.
Add to this a growing sense that, showing off and protecting the environment aside, buying luxury is a well-deserved treat. This comes from the growing consumer desire for experiences and novelty in all that they do. While luxury brands and retailers pride themselves on their products, they also come with a theatrical instore experience or a dramatic unboxing online and a whole interaction that is memorable and, perhaps most importantly, Instagram-able.
This has given rise, in part, to the birth of the 'affordable luxury' sub-sector of the market, with brands and sellers springing up that can offer luxury items – end-of-line new or second-hand – at a more affordable price.
It has also led other brands, for example, Apple, to look at how to add touches of 'luxury personalisation' to its products, with many Apple accessories now coming with free engraving. Such moves see the mores of the luxury sector spreading back along the retail chain and bringing many of the core unique selling points of luxury to a much wider audience.
---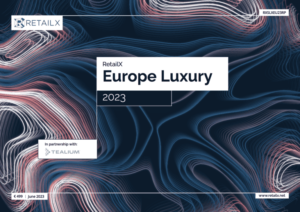 This feature originally appeared in the RetailX Europe Luxury 2023 report. Download it in full to discover:
Why world-renowned brands dominate the Largest 50
Why is the European luxury sector still highly reliant on physical retail?
How Inflation is affecting the behaviour of domestic consumers