New Look has published its Sustainability Report for 2023, with the fashion retailer submitting Science Based Targets and partnering with TrusTrace to gain greater visibility and traceability of products through its supply chain.
The RetailX UK Top50 retailer is awaiting approval of its Science Based Targets (SBTs), due to be ratified this November. The targets include:
A near-term target of reducing carbon emissions by 46% by 2031 across scope 1 & 2 and Scope 3, aligned to the 1.5C pathway
A long-term target to become Net Zero by 2040 for both scope 1 & 2 and scope 3
The submission of SBTs is ahead of the timeline initially set out by New Look – showing the business' work to deliver its ESG targets and support its aim to reduce greenhouse gas emissions from products by 50% by 2030.
"Over the last 18 months we have embraced our 'Kind to Our Core' strategy and made significant progress across our targets. We are pleased to have submitted our SBTs ahead of schedule, which shows our commitment to make significant improvements to our greenhouse gas emissions and net-zero target," explained Sue Fairley, head of sustainability at New Look.
Last month, New Look agreed a partnership with TrusTrace, a global leader in supply chain transparency and compliance. The partnership will allow New Look to gain greater visibility across its supply chain through to Tier 4 suppliers, to help it identify and mitigate responsible sourcing and business continuity risks.
New Look will be the first major UK retailer to join forces with TrusTrace, as it continues to improve its transparency.
Shameek Ghosh, TrusTrace CEO and co-founder, said: "At TrusTrace, we have a vision of the future where all value chains are traceable, circular and fair, and we are excited to partner with New Look to support them in delivering on their sustainability strategy when it comes to responsible sourcing.
"The TrusTrace platform facilitates seamless data collection from Tier 1 all the way to Tier 4 suppliers, enabling New Look to access granular, validated data on where, how and under which conditions their products have been made. With this data, New Look can make informed decisions to enhance sustainable sourcing, particularly concerning key fibres like cotton, polyester and viscose, as well as comply with complex regulations."
Furthermore, New Look held a Supplier Conference in London earlier this month, inviting all of its suppliers to meet to discuss sustainability targets, collaboration and responsible sourcing. At the conference, New Look requested that suppliers calculate their own carbon emissions, and informed them that it has signed up to the Zero Discharge of Hazardous Chemicals (ZDHC) roadmap and will be rolling this out throughout its supply chain.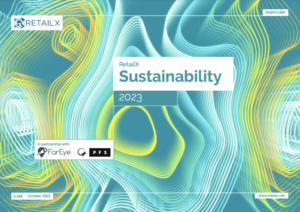 Discover how the leading retailers are sharing their sustainability journeys with customers in the brand new RetailX Sustainability 2023 repot.
Pre-register for it now and discover how sustainability permeates all areas of retail from the pressures being placed on retailers by legislation and changing customer behaviour, through operations to final mile delivery and new business models.