The apparel, footwear and accessories markets have long been clearly defined from a fashion perspective, but in recent years the line between 'fashion' and sportswear, athleisurewear and even outdoor clothing has blurred.
Street fashion has been inspired by both haute couture and sportswear, so now these three fashion outliers make a considerable contribution to fashion sales across all three segments, the RetailX Global Fashion 2023 report has found.
Sportswear – the propensity for sportswear to be seen as fashion wear has played a role in driving sales of the sports segments. Indeed, this sub-subsegment has been a key driver of the sports sector and arguably has been what has kept it growing, albeit slowly. This has increased the competition between key sportswear brands and fashion brands and retailers, with each seeing the other as a threat to their already stagnating growth.
As a result, the global sportswear market was worth around $190bn in 2022, growing 17% between 2020 and 2021 and, despite the global economic climate, bucking the rest of the fashion market trend for negative growth with a 2% rise between 2021 and 2022.
Athleisurewear – A combination of sportswear and leisurewear, athleisurewear was already a key trend pre-pandemic but the blurring of the workhome life balance saw its sales increase across 2020 and 2021. Additionally, consumers continue to put a healthy lifestyle ahead of other pursuits, setting exercise up as part of their daily life and something that is worked into their routine. It is now acceptable to arrive for a Zoom meeting in sportswear fresh from a workout or a bike ride.
The sportswear industry has been quick to combine this and the increasingly fashion-forwardness of its clothes to create garments that satisfy both needs. As a result, the global athleisure market was worth an estimated $ 330.97bn in 2022 and is expected to reach $358.08bn in 2023. The market is expected to grow at a compound annual growth rate of 9.1% from 2023 to 2030 to reach a staggering $662.56bn by 2030, making it one of the most lucrative sub-segments of global fashion.
Outdoorwear – Outdoor pursuits have continued to grow in popularity post-pandemic, with consumers embracing the great outdoors as place to exercise and to relax.
As with sports-inspired apparel, outdoor wear is increasingly seen as both a lifestyle choice and as fashion clothing, with brands such as The North Face and Jack Wolfskin becoming as much about fashion as they are about outdoor pursuits. This sub-segment has seen the strongest growth in 2022, hitting 4.3%. It is tipped to be worth in excess of $34bn in 2022, rising to as much as $44bn by 2027.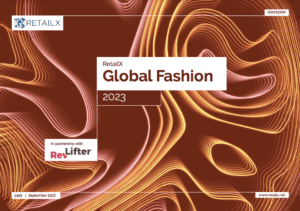 This feature was authored by Paul Skeldon and originally appeared in the RetailX Global Fashion 2023 report.
Download it in full to discover how consumers are increasingly looking for more sustainable fashion, which is creating a new sales channel for brands.
Read 10 company profiles and 12 snapshots – learn from the industry's best as they share their success stories and strategies. Includes Charlotte Russe, Asos, Shein, Zara, Karen Millen, Hibbert Sports, Warehouse, M&S and Zalando and many more