For the first time ever, H&M is offering a rental service on selected pieces from their latest guest designer collaboration.
A curated assortment from the Rabanne H&M collection featuring exclusive colourways is now available for hire in stores in London, Berlin, Amsterdam, Antwerp, and Stockholm.
Announced on a LinkedIn post, H&M Group said its rental service gives customers the chance to enjoy fashion without buying something new.
"A single garment can be worn and cherished over and over again by several fashion lovers. It's a fantastic way to keep your wardrobe fresh and exciting, while playing a part in the movement towards a more circular fashion economy," the statement read.
The fashion giant already offers a rental service of its clothing, as well as &Other Stories pieces from its own sites and in partnership with Selfridges. The rental offering is part of its wider circular approach to fashion, which also sees it offer second-hand pieces in store and online.
H&M has partnerships with Reflaunt and ThredUp for pre-loved collections, while it also works with Sellpy in 24 markets to enable customers to buy secondhand clothing.
The retailer, which is trialling sustainable solutions across its brands including Cos, said: "We've already learnt a lot about resale. To make it a sustainable business, we need to build solutions that can help close the gap between customer intentions to shop more sustainably and their actions. We need to make second-hand as convenient and attractive as the traditional linear model. "
Repair services are available in selected stores, with one of its UK distribution centres working to repair returned items for resale.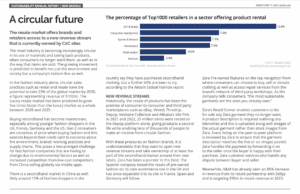 Discover more about a circular approach to ecommerce in the RetailX Sustainability 2023 report. Read how the resale market offers brands and retailers access to a new revenue stream which is currently owned by C2C sites.
Download the full report here.